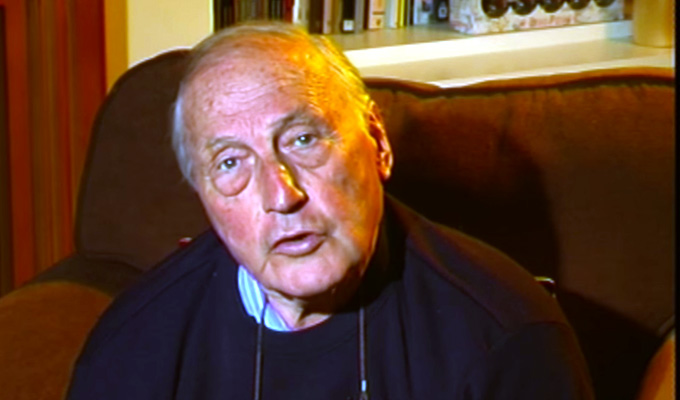 Adam Buxton's BaadDad Nigel dies at 91
Adam Buxton's father Nigel, known to millions comedy fans as BaadDad, has died at the age of 91.
However before his cult appearances on Channel 4's Adam and Joe Show, Buxton Sr had an accomplished career as journalist, being a former travel editor of The Sunday Telegraph and wine writer.
He was also a war veteran, seeing active service in Normandy as a member of the Royal Artillery, where he was mentioned in despatches.He was involved in Operation Veritable push on Germany in the later months of the year, which General Eisenhower described as a 'bitter slugging match' conducted in the "most appalling conditions'.
So he might have made an unlikely figure to review contemporary culture that he had no connection with - which is exactly why he got the job on The Adam And Joe Show.
And his wry comments proved a hit with the programme's audience, which reached 1.5million at its peak.
Of The Verve's Bittersweet Symphony, Nigel said: ' If it is a symphony then the needle's got stuck after the first few bars.'
Of Radiohead's Paranoid Android: 'I'm not sure which of these individuals has a radio for a head, but whoever is it is, he ought to try Classic FM and calm down.'
Of Blur's Song 2: 'If this is song 2, let's hope they never get to song 3.'
And he thought The Prodigy's Firestarter 'abysmal'… and more dammingly thought that frontman Keith Flint had 'a very bad sweater'.
It was Louis Theroux, a Westminster School friend of both Adam Buxton and Joe Cornish, who suggest Nigel get involved in the show. 'Knowing that my music tastes were lest than avant agreed he thought it would be amusing to involve me in cutting-edge comedy,' Nigel once recalled.
He also reported back on experiences out of his comfort zone, such as the Ibiza club scene and the Reading Festival. He smoked his first joint at one festival, conceding: 'It does do things for one'
Nigel said of his time on the show, which ran from 1996 to 2001: 'I sometimes feel that I made a bigger ass of myself than they had attended.' But he said wouldn't have changed it for 'all the money in the lottery fund' and especially enjoyed being recognised by young people.
Adam posted this video up yesterday in tribute to his father:
Published: 20 Dec 2015
What do you think?