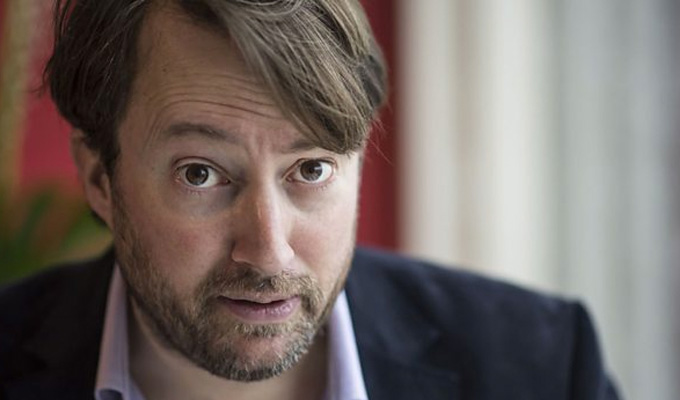 David Mitchell minds his manners for Radio 4
David Mitchell is to host a Radio 4 series looking at modern manners.
Behaving Ourselves: Mitchell On Manners will be stripped over four days from January 4 as part of season looking at etiquette.
Ann Widdecombe will present another series over the week, The Etiquette Guide, about published guides to the correct behaviour.
'Britain is a baffled country that used to have rules,' Mitchell says. 'So where did those rules come from, and what has happened to them?'
His survey takes him from the medieval court to lunchtime in a South Wales market, and asking etiquette questions such as: how often can you look at your phone during a meeting with colleagues, should you wear shorts to a restaurant in the evening and is it ever acceptable to hug a bishop?
He said of etiquette: 'If you find it confusing and you don't know what you're supposed to do, you could not be more completely within it' – but he conceded that manners play a vital part in society.
'We're often presented with a rather gloomy picture of a civilization falling to bits. Well, I'm not so sure it is. I'm not prepared to be that gloomy in the first week of the year. I think it would be irresponsible broadcasting and positively impolite, so in this series on Radio 4 I'm going to work out whether things really are that terrible, whether there's some cause for hope, or whether a future of relentless rudeness might not be that bad at all.'
For her part, Widdecombe said: 'Over the centuries, the mark of a civilised country is to know what it is to be civil, and each age has defined good manners, standards of behaviour and etiquette in its own image.
'It's not just about how best to eat an artichoke or address an archbishop – but manners have a real bearing on how our private lives, our business and our society is best organised.'
To conclude the week, on Friday January 8, author, broadcaster and etiquette coach William Hanson hosts a show about why there's such a demand for British politesse around the world.
Radio 4 commissioning editor Mohit Bakaya said: 'Issues such as freedom of speech, online trolling and respecting others are all high on our list of concerns right now, so this is a timely exploration of the rules, written and unwritten, that influence the way we behave with one another, as well as the place manners have in our modern world.'
Published: 11 Dec 2015
What do you think?