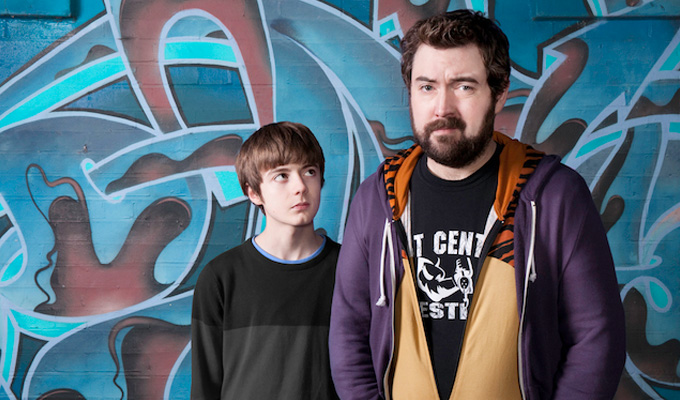 BBC orders a third series of Uncle
Nick Helm's comedy Uncle is to return for a third series – but online.
Co-stars Elliot Speller-Gillot and Daisy Haggard will also both return for seven new episodes of the sitcom about a feckless musician and his relationship with his nephew.
With BBC Three being relegated to an online-only channel next year, there had been speculation that the critically acclaimed show might move to BBC Two.
However a BBC spokesperson confirmed to Chortle that: 'We think it will be BBC Three online'.
Helm has criticised the decision to move BBC Three off conventional TV as 'shortsighted and silly', tweeting on Sunday that the channel was a 'breeding ground for new talent'.
Today he said of the recommission: 'Uncle is more than a show about an unconventional family unit, the whole production is like a family, from Russell on sound and Terry on Rocky Road duties, to Ali producing and keeping everything ticking like clockwork, Oli and Lilah who write and direct the show and music videos and Daisy and Elliot who, while playing my fake TV family, end up substituting my actual family for seven weeks a year.
'I'm really looking forward to seeing what the new series has got in store and getting the "Family" back together again.'
Shane Allen, the BBC's head of comedy commissioning, added: 'It's great to welcome back TV's unlikeliest double-act for another blend of the funny and the poignant.'
Uncle is directed by Oliver Refson, who co-writes with Lilah Vandenburgh, and is filmed on location in Croydon.
Alison MacPhail, who produces the show for Baby Cow, said: 'It really is as much fun as it looks working on this show, and we are delighted to have a third series commissioned.'
Earlier this year, Helm told London newspaper The Wharf that with Speller-Gillott turning 15, their dynamic would change in a third series. 'The relationship evolves as their age evolves,' he said.
Ratings for Uncle's second series were slightly down on the first, averaging just under 400,000 viewers an episode.
The commissioning editor for BBC Comedy is Kristian Smith and the executive producers for Baby Cow are Henry Normal and Lindsay Hughes.
- by Jay Richardson
Published: 3 Dec 2015
What do you think?