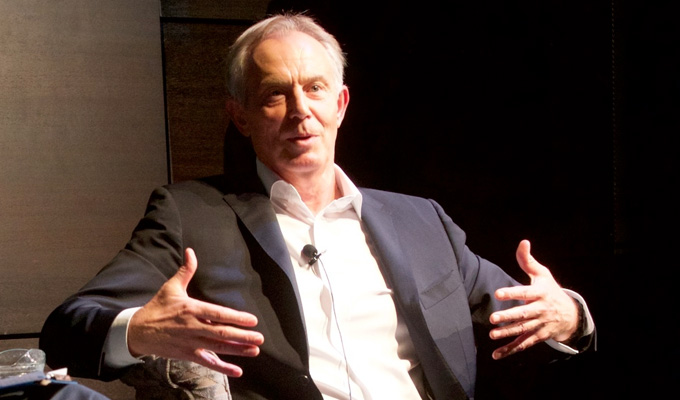 Tony Blair: 'I tried being a stand-up comedian'
Tony Blair performed stand-up comedy – but admits he was 'really dire'.
The former Prime Minister tried his hand at being comedian during his time at St John's College, Oxford – the same period when he was also in a rock band called Ugly Rumours.
Blair made the confession when he appeared on stage alongside comedian Matt Forde – a former Labour party aide – last night.
The politician admitted: 'I did these revues in which I did stand-up and they fitted into two categories really, there was the first lot of them that were really dire, and then I did actually learn and got a bit better at it.
'I used to do skits on TV shows, I did one on Star Trek that was memorably awful. I've got a terrible feeling I was a character called Captain Kink. If there had been social media, can you image, they could have put that on there as the Tory Party Political Party Broadcast, that would have been it.'
The interview, conducted as part of Forde's series of shows entitled The Political Party at London's St James Theatre, will be released as a podcast from tomorrow
Blair also backed David Cameron's desire to start bombing IS fighters in Syria.
He said: 'I would support the position that has been set out, not just by David Cameron, but by many Labour MPs. I think it's important that we take strong action against ISIS and take that action against them where they are headquartered, which is in Syria, so obviously I would support that but this is going to be a long hard struggle.'
Cameron today claimed that launching UK air strikes against Islamic State militants in Syria will 'make us safer'.
• The Political Party with Matt Forde will be available to download from 10am tomorrow, from iTunes or mattforde.com.
Published: 26 Nov 2015
What do you think?