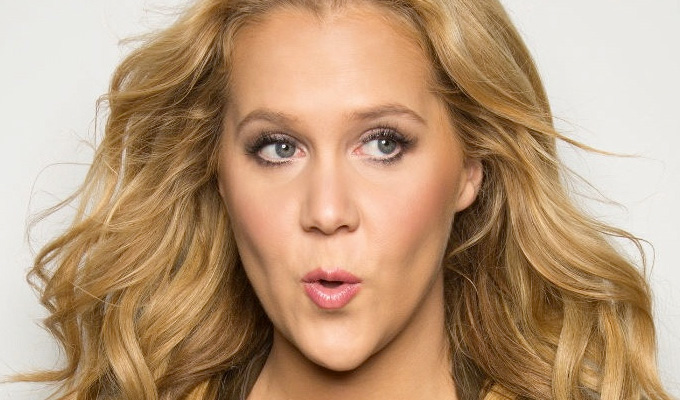 'Too offensive' trailers trashed
Comedy Central has been rapped for airing offensive trailers for Inside Amy Schumer and South Park – even though they were broadcast after the 9pm watershed.
Watchdogs at Ofcom today upheld a complaint that both promos, which aired after 10pm in September, were 'too graphic' – stating that broadcasters 'do not have unlimited licence in terms of offensive material', even after the watershed
Schumer's trailer featured a group of men sitting around a table playing poker. The comedian entered with a plate of chicken wings and the actor Zach Braff, said: 'If nobody needs anything else, honey, I'm going to head upstairs, start lubing up, so you can blast my dirt-box with your thumb while you lobster-hand me in the twat, okay? Seriously, I want you to thumb-dash that mudpit 'til I make a pig noise. Then you can shit on my tits while I call my mom.'
Schumer then left, and Braff paused for a moment as the room fell into uncomfortable silence. Then he reached for a chicken wing and said: 'Guess I should eat up… I gotta shit on those tits!'
The 30-second South Park trailer featured a song about previous episodes and contained the lyrics:
Do you recall when Cartman found out his Mom was his Dad?
Or Kyle being turned into a human centi-pad?
Or how Butters became a pimp and took care of his hos?
Well, I got some good news for you; we're making brand new shows!
South Park's back for series 19, I can't fucking wait.
They've been on for nearly 20 years and they're still fucking great.
'I think I prefer Family Guy', some fucking asshole moans.
Well, why don't you go fuck yourself 'cos South Park's coming home!

The song was illustrated by a variety of clips illustrating the lyrics, including Kyle as part of a 'human centipede' with a man defecating into his mouth; Cartman vomiting excrement into a toilet and Santa Claus being tortured by electric shocks to his genitals.
In its ruling, Ofcom said the 'various graphic, sexual references' used by Schumer and the language and content of the South Park song 'were clearly capable of causing offence', which might have been justifiable in the context of a full show, but not a trailer.
It cited research which said audiences consider offensive language less acceptable if it is included in promos, which they can stumble on without choosing to watch the show.
They said of the Schumer trailer: 'In this case we took into account that the language and graphic sexual description was used as a comedic tool by a performer known for her scatological and adult approach to comedy. However, because the offensive content was in a trailer, viewers would have come across it unawares. There was therefore no opportunity to place the trailer in context or give viewers any form of warning or information in advance.'
Similarly, the regulators said the established bad taste of South Park, plus the fact the clips were from episodes that had already been broadcast, 'helped mitigate to some extent the degree of potential offence'.
But they declared: 'Viewers cannot make informed choices to avoid offensive material in trailers compared to pre-scheduled programmes, and consequently audiences consider that the offensive language is imposed upon them. '
Ofcom also said that both trailers were aired during programmes such as Friends, Two And A Half Men and Impractical Jokers, which 'do not contain the graphic sexual language of the strength that appeared in this trailer' – so it would have been a shock to viewers.'
Today's rap comes despite Comedy Central having previously been summoned to a meeting with Ofcom over its trailers, after an investigation into 14 unsuitable promos that went out pre-watershed. The broadcaster then admitted it 'pushed the boundaries of our compliance practices for promos too far'.
It says it has carried out a comprehensive review of its compliance procedures.
A spokesperson said today: 'Comedy Central accepts Ofcom's findings and would like to apologise for any offence caused. These breaches took place ahead of the recent changes we made to simplify and strengthen the compliance procedures and creative guidelines governing our on-air promos.'
Here is the full Amy Schumer sketch which was made into the trailer:
And here is the South Park trailer:
Published: 23 Nov 2015
What do you think?