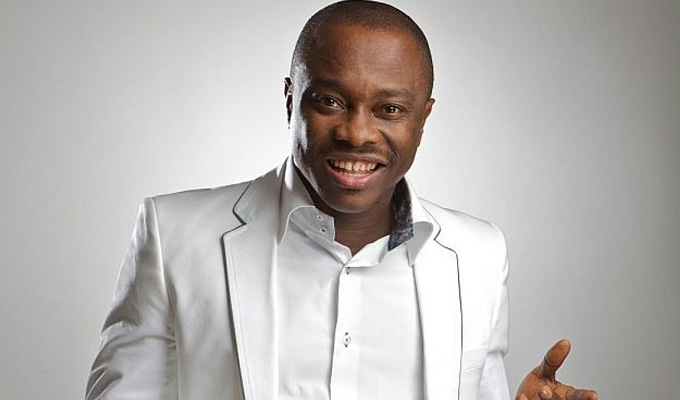 God opens a comedy club...
• Harry's Hill 'looks unrecognisable as he reprises role of Professor Branestawm' MailOnline reported of the comic as they ran pictures from the set of the latest Christmas special, showing his character atop a Penny Farthing. No wonder he's 'unrecognisable'… as it's not him; but a stunt double who's about 15 years younger than the comedian.
• Tig Notaro has married her partner Stephanie Allynne, with guests at the ceremony in Pass Christian, Mississippi, including Sarah Silverman, Alicia Silverstone, Lucy Lawless and Kate Micucci. Notaro tweeted: 'Wedding night sex is better than regular sex cause you finally have an excuse to not have it.'
• Follow in the footsteps of Alan Partridge! A new tour around Norwich on Wednesday takes in all the sights from the Alpha Papa movie and the telly shows. Details.
• A man who falsely led people to believe he was the son of Tracy Morgan, gaining access to the VIP areas of top nightclubs, has come clean. Louyi Ferrin had posted several photos of Morgan on to his social media page over the last several years with captions implying that he was the son of the comic, including 'Happy Fathers day to the world's coolest Dad'. And when Morgan made his return to Saturday Night Live earlier this month, Ferrin went to Haus nightclub in New York City asking DJs to give 'a shout out to his dad Tracy' to mark his comeback. But it was that which alerted gossip column Page 6, prompting Morgan's reps to say: 'Tracy does not have a son named Lou. It is just someone making stuff up. No one on our side knows this guy.' Ferrin then admitted all on Facebook, claiming: 'I didn't do this for fame, I didn't do this for money, I simply went with the flow of someone else's idea.' He added: 'If you know me or spent any time with me you know that I spent most of my time working and giving back as much as possible.' Awww…
• Margaret Cho has said she supports sex workers and their rights because she once was one. 'Sex work is simply work. For me it was honest work. I was a sex worker when I was young. It was hard but well paid. There's no shame in it,' she wrote on Twitter.
• Once God was all about commandments. Now he's into advising people about comedy clubs. Nigerian comic Julius Agwu (pictured) says he's opening his new club in Lekki, because: 'Its God's calling. God spoke to me – "do it". It's basically an assignment from God.'
•
Tweets of the week
When John Candy visited Europe, he was known as Toilet Sweets.

— d i v e r s i o n (@Diversion50) October 24, 2015
Watched #JekyllandHyde last night. I'm still in two minds about it.

— Bill Dare (@Bill_Dare) October 26, 2015
Meanwhile at B&Q in Glasgow… pic.twitter.com/f0JNCACUWE

— Margaret Dickson (@MagsDickson) October 28, 2015
Published: 30 Oct 2015
What do you think?