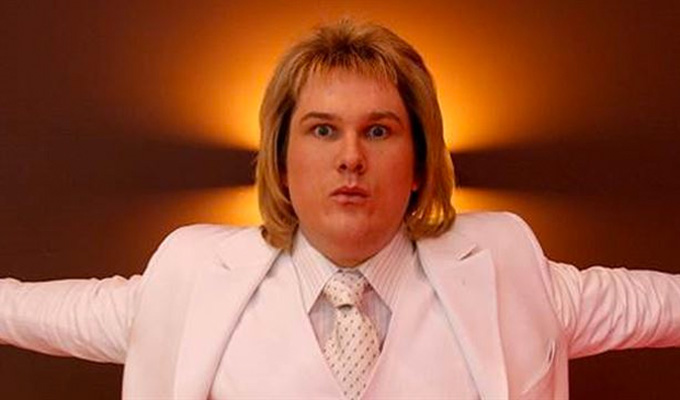 Not a happy medium!
Shirley Ghostman creator Marc Wootton has been interviewed by police after interrupting a Derek Acorah show and challenging him to a 'psychic showdown'.
The comic ran onstage as his spoof medium character during Acorah's performance at the King's Theatre in Portsmouth on Sunday, before being tackled by security and escorted from the venue.
Ghostman, who starts his own mini-tour of the UK later this month, Spooktacular On Ice, tweeted: '@derek_acorah psychically challenges me to a showdown, then wusses out when I show up at the Kings Theatre. Chicken.'
He later clarified: 'Get the impression @derek_acorah didn't want to do the psychic showdown. Even though he telepathically suggested it!'
Maintaining character, Ghostman told Chortle: 'Derek has been psychically taunting me for years. Ever since he threatened to sue over something I said about him in my show high spirits. He waits until I'm relaxing and getting a bit tipsy and then telepathically projects challenges into my head. It was about time I did something about it. But he wasn't so brave when I showed up. He claimed he knew nothing about it.'
Audience member Rick Morty described the incident on Facebook, reporting that 'Derek was in the middle of delivering a message for someone and the doors burst open. In stormed Shirley Ghostman in a big white coat with a guy walking backwards in front of him and filming his entrance into the venue.
'Shirley was yelling "Derek Acorah, Derek Acorah, I challenge you to a Psychic Showdown!" He then set his psychic pal Sheba onto Derek Acorah's [spirit guide] Sam. He yelled "Get him Sheeeebaaaaa" and proceed [sic] to make his way onto the stage with Derek, he was successful and yelled at Derek to have a psychic showdown a couple more times, Derek was shaken and said something like "Can someone please remove this sole" but I was laughing too much at this point as the security guards finally realised it was not part of the show and decided to move in, and it took ALL of them to bring him down and finally drag/slide him across the ground off stage, still yelling about a psychic showdown.
'It looked like there were at least two filming this but I think the police and security managed to catch them all so the film probably won't make it out …'
Wootton's publicist told Chortle that the police 'interviewed Shirley and then drove a few miles away from the venue before dropping him off.'
Acorah's earthly representatives have still to respond to a request for comment.
However, he did post on Facebook that: 'I suppose I must make mention of the incident that took place during my demonstration – such a pity that there are idiots out there who try to spoil things for others. The police dealt with the matter perfectly and we were able to continue on as though nothing had happened.'
Audience member @kellpops appeared to capture the moment security tackled Ghostman:
@shirleyghostman I went to a medium roadshow with Acorah fri night,it was bollocks.This was the best pic I got ! pic.twitter.com/BCvBXysMPV

— kels❤️ (@kellpopps) September 27, 2015
'
Dale Chatwin added on Twitter: '@shirleyghostman challenging @derek_acorah to a psychic showdown last night at the King's Theatre was pure genius! So glad I saw it!'
Acorah's fans weren't impressed. Steve Randell tweeted:'I was there last night and what you did it was utterly irresponsible! With the current climate to do what you did was pathetic you were luck you weren't hurt and it wasn't funny!'
Acorah made his name as a supposed spirit medium on programmes such as UK Living's Most Haunted but has also appeared on comedy shows including TV Burp and Bo' Selecta and in Ricky Grover's 2011 film Big Fat Gypsy Gangster.
Meanwhile Ghostman came to prominence in BBC Three's 2005 series High Spirits with Shirley Ghostman, generally considered to be a parody of Acorah's act.
The character was revived for the 2010 series La La Land on the same channel and also appeared in the sitcoms Nighty Night and Cyderdelic, as well as Channel 4's hidden camera gameshow My New Best Friend.
He is performing four nights of his Spooktacular - On Ice in Manchester, Bristol and London later this month. A planned Edinburgh date was cancelled this morning, although the reason is unclear.
By Jay Richardson
Published: 1 Oct 2015
What do you think?