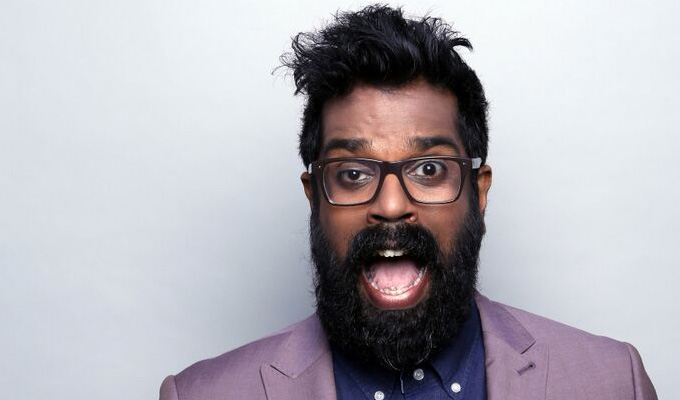 Romesh Ranganathan announces 2016 tour
ROMESH RANGANTHAN has announced a 2016 tour, Irrational. It is the show he had intended to perform at this year's Edinburgh Fringe, but was cancelled as he travelled to Sri Lanka to trace his family routes for the six-part BBC Three series Asian Provocateur, which starts tonight. Most dates for the new tour go on sale on Friday. Schedule.
BRIAN BLESSED has been cast as the father of Matt Berry's character Steven Toast in the forthcoming series of Toast Of London. A source on the Channel 4 show, which returns later this year, told the Radio Times: 'We find out where Steven comes from – it's not a humble background, let's say, but then there isn't much about Steven that's humble.'
NICKI MINAJ is to star in her own sitcom for US broadcaster ABC Family. The semi-autobiographical show will be based on her life growing up in New York after immigrating from Trinidad. 'This is one of the more unique adventures I've ever embarked on,' the rap star said, misunderstanding the word 'unique'. A pilot will be filmed this winter.
INDIE DVD label Go Faster Stripe are hosting a mini-festival at London's Bloomsbury Theatre, recording nine DVDs over the two days of November 7 and 8. Robin Ince, Will Hodgson, Matthew Crosby, Tony Law, Bec Hill, MJ Hibbert, Gavin Osborn, Simon Munnery and one more will be taping their shows in the theatre's studio space, as the main auditorium remains closed because of asbestos.
STEVE COOGAN will be signing his new book, Easily Distracted at Waterstones in London's Piccadilly next Friday, October 9, at 12.30pm.
Published: 30 Sep 2015
Recent News
What do you think?