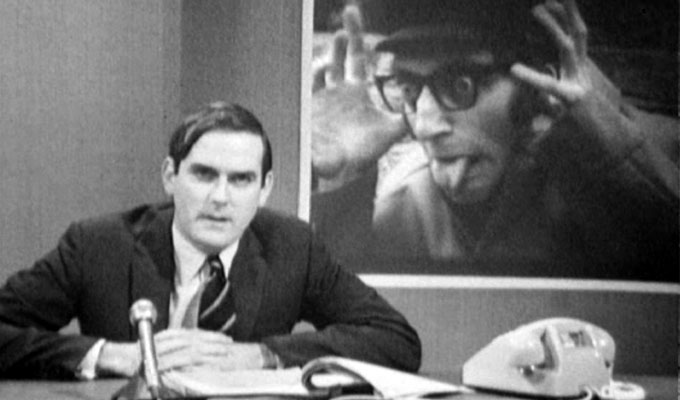 'Like finding the missing link'
Two long-lost episode of the Monty Python precursor At Last The 1948 Show have been recovered after almost 50 years.
A member of the public came forward with recordings from his personal collection – the first of which will get its first public screening later this month.
The show starred John Cleese, Tim Brooke-Taylor, Marty Feldman, Graham Chapman, Bill Oddie, Eric Idle and 'the lovely' Aimi Macdonald – but had been largely wiped.
Twenty five years ago only two episodes of the series were known to survive but rediscoveries mean that today, of the 13 episodes which were produced, 11 episodes are now safely contained in the BFI National Archive. However, audio recordings do survive of the remaining missing shows.
The most recent rediscoveries are episode 3 of series 1, which aired on March 1, 1967 and episode 4, series 2 from October 3, 1967.
Their discovery follows the news last year that the first episode of the first series and the last episode of the second series had been found in the personal collection of David Frost. The news prompted the new collector to come forward.
The third episode will now be screened at the Radio Times Festival at Hampton Court on September 25. The magazine's editor Ben Preston said its discovery was like 'finding the missing link'.
The programme features a legendary sketch which John Cleese considers one of his best, The Bookshop; in which he plays an exasperated shop owner dealing with the increasingly surreal requests for books by a very demanding Marty Feldman ('David Copperfield with one p').
The sketch was subsequently performed with Cleese and his wife (and Fawlty Towers co-creator) Connie Booth on stage for the Amnesty International benefit the The Mermaid Frolics in 1977, and by Graham Chapman in the NBC programme The Big Show in the State in 1980.
Steve Bryant, senior curator at the BFI National Archive said: 'Once almost forgotten, the recovery and restoration of episodes of At Last the 1948 Show by the BFI over the past 25 years has led to it being acknowledged as one of the key milestones of British television comedy. Now we have another two missing episodes, and a third which was missing a brief segment, and the archive's collection is almost complete – but the search still goes on.'
'It is particularly gratifying to get back the Bookshop Sketch, one of the show's great classics and recognised as such by John Cleese in his recent autobiography.'
At Last the 1948 Show – a reference to how long TV took to commission programmes – featured running gags, such as the recurring appearance of Aimi Macdonald between sketches in one transition saying the words" 'And now for something completely different…'
The show was made by Rediffusion and aired on ITV, but not across the whole country. A DVD of other surviving episodes was released in 2007 (Buy).
Published: 16 Sep 2015
What do you think?