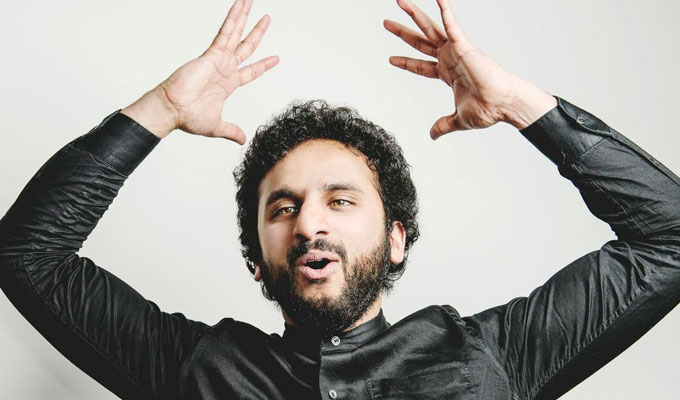 Nish of the day!
Nish Kumar had the best reviewed show of the Edinburgh Fringe, according to a new analysis of the festival coverage.
His show, Long Word... Long Word... Blah Blah Blah... I'm So Clever, collected five star accolades from One4Review. ThreeWeeks, The Mirror and The Herald, plus 15 other four-star reviews.
That put him top a list compiled by the British Comedy Guide, aggregating more than 5,000 reviews from 50 publications.
Second on the list of 1,900 comedy shows was Alex Edelman's Everything Handed To You, the follow-up the Bostonian's best newcomer-winning show from 2014. That received five stars from One4Review, Edinburgh Guide and The Mirror, 12 four-stars and one three-star, from the Guardian.
Notably, the Edinburgh Comedy Award-winning Sam Simmons only came eighth it the critics' rankings. The best-reviewed newcomer was sketch trio Daphne, who came 9th overall in these rankings, but they were beaten to the Foster's prize by Sofie Hagen, who did not make the top 20 best-reviewed shows.
The top ten according to the British Comedy Guide is
1. Nish Kumar: Long Word... Long Word... Blah Blah Blah... I'm So Clever
2. Alex Edelman: Everything Handed to You.
3. Felicity Ward: What If There Is No Toilet?
4. James Acaster: Represent.
5. Bridget Christie: A Book For Her.
6. Joseph Morpurgo: Soothing Sounds for Baby.
7. Kieran Hodgson: Lance
8. Sam Simmons: Spaghetti for Breakfast.
9. Daphne Do Edinburgh.
10. Nick Cody: Beard Game Strong.
In publishing the top shows, the website stressed: 'This list is biased towards those that managed to convince lots of reviewers to come and see them. There are almost certainly amazing shows missing from this list because they didn't get ten or more reviews.'
• Click here for all Chortle's Fringe reviews.
Published: 7 Sep 2015
Recent News
What do you think?