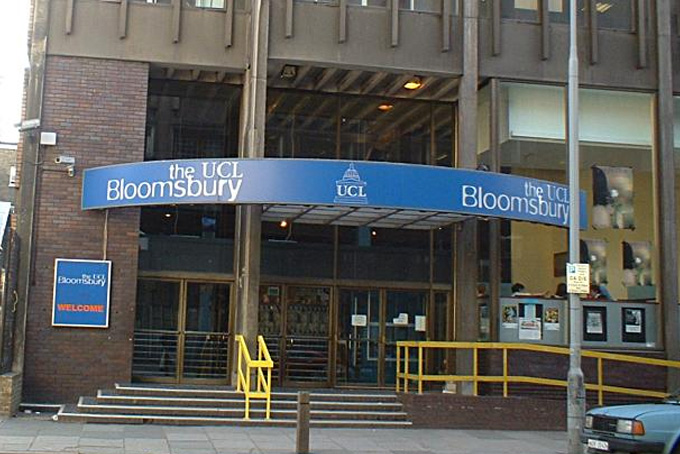 Bloomsbury Theatre shuts unexpectedly
One of London's main comedy theatres has been forced to close unexpectedly because of asbestos.
The Bloomsbury Theatre will be shut until the summer of next year after building works disturbed the dangerous substance.
It has led to the cancellation of Robin Ince's annual Nine Lessons And Carols Christmas shows, among others. He said on Twitter: 'A little miserable that we have had to cancel shows due to sudden closure, Will attempt to keep some of them going. More news soon.'
Chris Ramsey was due to film his new DVD there next month and charity gigs for Arts Emergency, Mind and Crisis have also been affected.
The venue was also due to stage the world premiere of a stage adaptation of David Walliams' kids story Gangsta Granny over Christmas
Other acts due to play there in coming months include James Acaster, Festival Of The Spoken Nerd, Frisky & Mannish, WitTank, and John Lloyd. Attempts are being made to find new homes for the affected shows.
The Bloomsbury Theatre had already planned to close from January for the improvement work, but the asbestos issue has brought forward the shutdown.
In a statement, University College London, which owns the venue, said: 'UCL's Bloomsbury Theatre is currently closed for planned building works which have impacted on known asbestos. The recently opened Bloomsbury Theatre Studio is unaffected and will continue to operate as normal.
'In line with UCL's stringent processes to manage asbestos, a full clean has been ordered. The theatre was due to close for major construction work from January 2016 until the summer. The recent developments and the complexity of the work mean that the works will take longer than anticipated. We have therefore brought forward the closure to be effective from now, to allow us to keep the planned re-opening, scheduled for summer 2016.
'Theatre staff are proactively working with performance organisers to find new venues for the affected shows between now and January 2016 and are in the process of contacting customers.
'We apologise for the inconvenience caused and are working hard to ensure that performances can resume as soon as possible.'
The next comedy gig after the closedown is set to be Richard Herring's Happy Now? tour on June 3 and 4.
Published: 1 Sep 2015
What do you think?