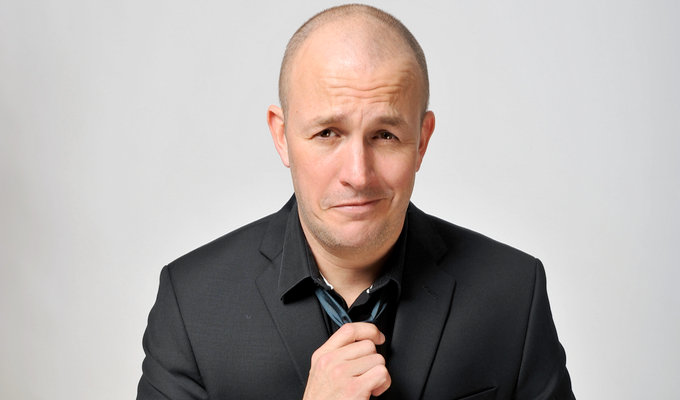 The selfie culture is killing comedy
Britain's comedy circuit is failing because it attempts to pander to self-absorbed audiences with no real interest in the artform.
That's what Brendon Burns told the Chortle Conference yesterday in a gag-filled keynote speech, which predicted a seismic change in the scene as the financial rewards withered.
He said that the British scene had become too narrow, especially with regards to race, hampered by misplaced political correctness, and ruined by the cookie-cutter approach of big agencies.
After roasting other comics and industry figures, Burns said that typical UK audiences were 'pompous self-absorbed white people' who take a misplaced pride in being able to laugh at themselves – while deciding that other ethnic groups couldn't.
He added: 'While straight white people pat themselves on the back in the UK for having a sense of humour about themselves, they also have the audacity to list who can and can't take a joke. Consequently we have politically corrected ourselves into irrelevance'.
Not joking about other ethnic groups creates a landscape where those groups don't feel included, Burns argued, leading to a segregation into black, white and Asian comedy circuits.
He added: 'There are two ways to make it, go to the Edinburgh festival where white people tell other white people what other white people find funny in front of the single whitest audience on this planet. No joke. Or get signed to a massive agency who hold the ethos of "throw enough shit at a wall and hope something sticks". Not realising that if you throw enough shit at a wall – you wind up with a shitty wall.'
Burns predicted a 'long cold storm' that would thin out the circuit, adding: 'Quite frankly I welcome the culling.'
'The reason they're having such a stand-up renaissance in America right now is in the 1990s there was no money in it and the only people that got into it were those willing to sleep in their cars to do it, because they were born to do it. Because they were born comedians, needy show-offs born of bad parenting, molestation or both. The Death Of Comedy – or should I say the death of funny – comes when there's too much money in it and handsome young men and women view it as a shortcut to presenting.
'I'm not saying anything we don't know, with comedy's overexposure people flocked to the comedy clubs expecting to see what they saw on television, when it wasn't there they complained so we started pandering to the fair-weather audience and then the real fans of the art, the actual base of our industry withered away.
'The fair-weather lot started seeing too many acts that were a carbon copy of one another and they sodded off too. I hate to admit it, but American comics have been warning us of this for decades and they were right.'
He said another nail in comedy's coffin was a 'selfie culture', in which audiences wanted to hear only material that directly related to their own lives, not other viewpoints or challenging opinions.
'I thought the whole point of this art form was to have a point of view not normally heard,' Burns argued. 'You don't have to agree with it, hell I don't agree with half of what I have to say. But now, in the age of the selfie, if people can't see themselves in your act they're not only upset, they're fucking outraged.
'In this production line, cookie-cutter industry we have built ourselves a limited lifespan. Stick someone in a shiny suit put them on a panel show then flog DVDs at Christmas. I'm not saying there's anything wrong with that but making that the only way? Well, finding other ways is down to us. The system will do as it does, bypassing it is our own responsibility.'
Burns has done that by starting a podcast, performing a free Edinburgh show and touring smaller, non-traditional comedy rooms – which he said was a defensive measure to ensure his survival, rather than an a defiant move.
'It turns out I was right,' he said. 'True stand-up fans have stopped going to clubs and comedy nights because what they used to love about it seems to have died.'
And of his move into a free show at Edinburgh he said it was the most fun he'd had at the festival and 'the most honest day's wage I'd ever earned. I made you laugh, you pay me, I didn't, you don't'.
Burns said that in touring, freedom has come from not having to 'bust my arse' to sell extra tickets in bigger venue to people who were not that interested in seeing him, when a smaller, more dedicated audience was viable. 'In the past year not a single solitary person has been coerced or talked into seeing me,' he said. 'And for the first time in God knows how long I sold out in advance and looked forward to going to work every night.'
• A recording of the full speech will be available soon. Burns is playing the Udderbelly on London's South Bank tomorrow night… but don't be coerced into going if you don't want to…
Published: 10 Jul 2015
Recent News
What do you think?