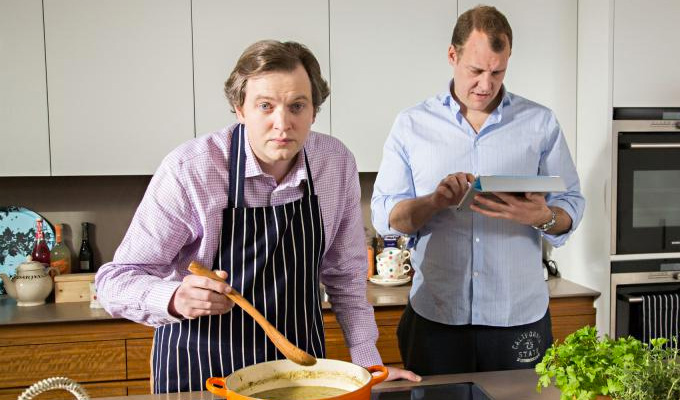 BBC gets out of the kitchen
Miles Jupp's In and Out of The Kitchen has been cancelled by BBC Four.
However, the culinary sitcom, in which Jupp plays the florid, neurotic food writer Damien Trench, will resume on Radio 4, with a fourth series recording later this month.
Jupp broke the news on his website, and the BBC has confirmed the television version will not return. A spokesperson told Chortle that the move was 'to make way for new comedy commissions to the channel'.
In and Out of the Kitchen co-starred Justin Edwards as Trench's partner Anthony and Brendan Dempsey as their builder Mr Mullaney, and aired three episodes in March of this year, launching with an audience of 229,000.
This was down on BBC Four's slot average of 331,000 for the past twelve months and failed to match the audience for the opening episode of the channel's previous sitcom, Mackenzie Crook's Detectorists, which was watched by 655,000.
A former restaurant reviewer for the London Evening Standard, Jupp told Chortle when the adaptation was commissioned that 'the challenge for the TV one is making it as atmospheric as the radio.
'It's easier to be atmospheric on the radio because you can have sound effects recorded close to microphones. But you need to be cleverer on telly.'
The Daily Telegraph had suspected the BBC Four version would 'remain a niche pursuit'. But it had 'some (rather beautifully filmed) recipe sequences' and was a 'capable modern sitcom, capably presented'.
The Guardian thought it 'a delight', while the Observer suggested the transfer was 'not wholly successful' but, ironically, that there was 'ample time enough yet' for it to develop, with Jupp 'amply talented enough to make it very funny indeed'.
- By Jay Richardson
Published: 5 Jun 2015