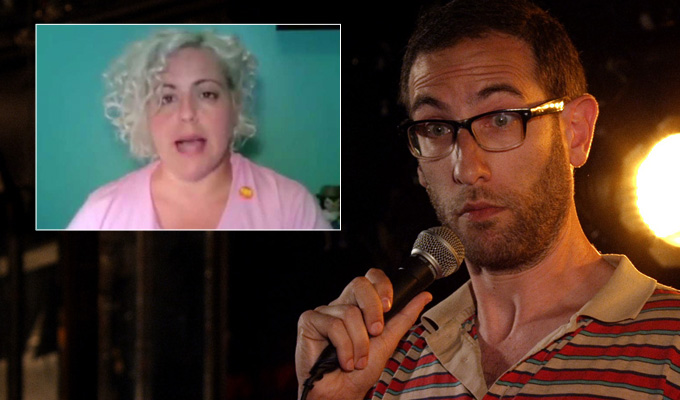 'This isn't comedy – it's bullying'
A comic is at the centre of a bullying storm after calling a fellow stand-up 'fat' and 'smelly' in a televised routine.
Ari Shaffir mentioned the relatively unknown Damienne Merlina by name during his Comedy Central special, Passive Aggressive, which aired in the States on Friday.
In routine called Annoying People, he tells his audience: 'I was talking to this girl in Los Angeles, a comedian, her name is Daminenne Merlina. She is so annoying. She's the worst…'
Then he gets a laugh by saying: 'Also she has one arm.'
Shaffir admits her disability 'has nothing to the story', but adds he was only telling the audience that fact so they would know her if they saw her.
He went on to say: 'She smelled. She stunk. She had that fat smell, you know the fat small… They are fat in a certain way, like when they are showing they can't reach under the belly. I'm sure the one arm didn't help.'
Now Merlina has hit, back, saying: 'There's no punchline to his joke. This isn't funny it's not comedy, it's bullying.'
In an online video in response, she outlines the difficulties she faced in her life, being homeless as a child, experiencing her 12-year-old sister being kidnapped and raped, and losing her right arm in a car crash at 22, soon after starting her comedy career.'
She says she barely knows Shaffir, adding: 'My first instinct was to challenge him to a roast battle or to strike out at him in some way. As tempting as it is to make a list of all the horrible things about Ari, it's not what I want to spend my time as a human being.
'These terrible things happen and you feel ashamed and they are not your fault and you can still go on to do wonderful things and to be kind. No matter what happens to you, you should never, ever, ever let make anyone make you feel less, because all people are equal.
'It's not OK to attack people based on their size or their physicality in any way, whether it's the colour of their skin, whether it's their sexual orientation, whether it's the number of limbs they have, or if it's a cleft palate or if cerebral palsy or if it's multiple sclerosis, or if they are in a wheelchair.
'You can have those experiences in life and you can turn them into positives.. and you can still be a nice person. And [you can] still be a funny person without being super-duper crappy to other people.'
Shaffir's special, Passive Aggressive, was recorded in 2013, but only broadcast on Friday by Comedy Central, which is received in 94million American households.
The comic – who also hosts Comedy Central's storytelling show This Is Not Happening – tweeted footage of the routine mentioning Merlina's name to his 110,000 Twitter followers, but has so far refused to be drawn into the row sparked by Merlina's response.
Here is that video:
Published: 31 Mar 2015
What do you think?