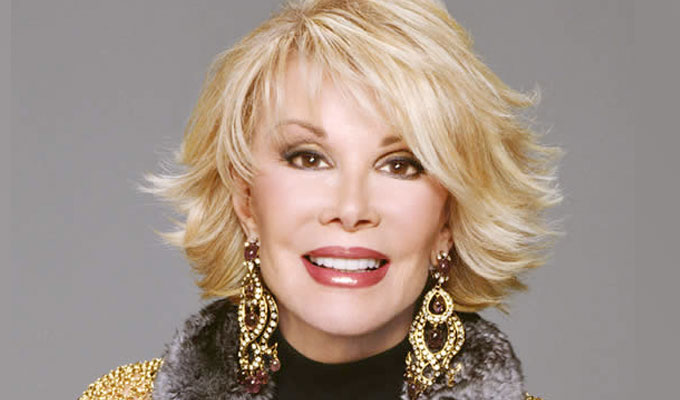 Did the Grammys snub Joan Rivers?
Joan Rivers fans are upset that the comedy legend was not honoured at the Grammy Awards's 'in memoriam' section at the weekend.
The stand-up was awarded her first ever Grammy on Sunday night, taking the spoken work category for her memoirs  Diary of a Mad Diva.
However, she was omitted from the televised tribute reel of recording artists that the industry lost in the last 12 months – even though fellow comic Robin Williams WAS honoured.
The row echoes the decision of Bafta film award bosses not to include Bob Hoskins in their obituary clips on Sunday. In that case, they pointed out that he had been previously recognised in the TV awards.
Grammys boss Neil Portnow said there was simply not time to include Rivers in their memorial.
Portnow, president of the National Academy of Recording Arts and Sciences, said: 'We lost over 300 folks in our industry this year, so it's a very difficult decision. We love Joan, though.'
And show producer Ken Ehrlich told People: 'No disrespect [was meant] at all.I think it was just that her Grammy involvement was certainly less than Robin's. There's only so much we can do and we have to make hard choices when it comes to things like that.'
Rivers's daughter Melissa collected her posthumous Grammy on her behalf.
She said: 'My mother would be absolutely thrilled to be here. She loved getting anything. If she thought she could get something at a Waffle House in Secaucus, she would be there.'
Rivers had been nominated for a best comedy album Grammy in 1984 for her show What Becomes a Semi-Legend Most?, but was beaten by 'Weird Al' Yankovic – who took this year's comedy Grammy too.
Meanwhile, Rivers's lavishly-decorated Upper East Side Manhattan penthouse has gone on the market for $28million. Have a snoop round here
Published: 10 Feb 2015
What do you think?