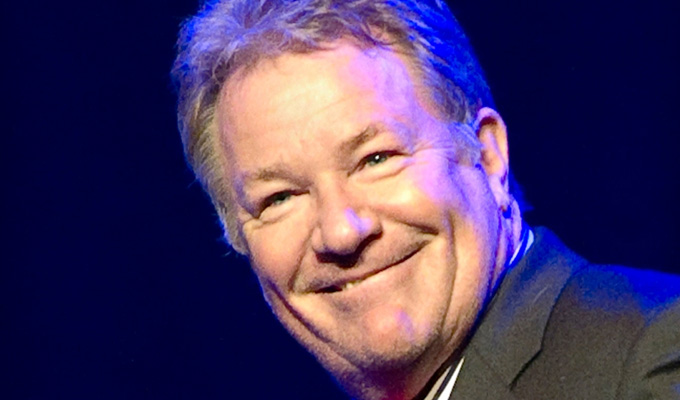 High drama...
The venue Jim Davidson stormed out of on Saturday has hit back over his complaints about the stage.
The controversial comic cancelled his show at The Regal in Evesham with about an hour to go - initially citing 'technical problems', but later saying it was because he was unhappy about the 'scary 12ft stage'.
Now managers of the venue have slammed the comic, saying he should have known the details of the stage from his contract.
In a statement, they said Mr Davidson 'appeared agitated' from the moment he arrived at the venue and 'remained in the building for approximately four minutes before storming out'.
They accused him of lying by tweeting that the show had been cancelled 'for technical reasons', adding 'he later amended his original untruth with his complaint about the height of the stage.
'The stage at the Regal is, in fact, 7ft 6ins high,' they said, adding: 'A full description was provided to Mr Davidson's management as part of our signed contract, which contains full technical details, drawings and photographs of the stage.
'Mr Davidson formed his opinion without going anywhere near the stage during his very brief visit.'
Davidson has vowed to perform another gig in Evesham for free to make up for his last-minute cancellation.
He said he had performed 68 gigs since September and have not cancelled one!, but: 'I just could not stand on a stage that high. Madness!'
Following Chortle's original report of his cancellation, Davidson added: 'I physically could not stand on a stage that high it would be like Nelson telling jokes to the pigeons!'
Comics have played the venue before, including Alistair McGowan, Omid Dajilli, Al Murray, Rich Hall, Nicholas Parsons and Robin Ince. It has also hosted musicians such as Nigel Kennedy, 10cc and The Ukulele Orchestra of Great Britain.
The Regent's statement concluded: 'Our first priority today has been to contact all our customers, who were informed of the truth of the situation on the night, and arrange refunds. We would like to thank them all for their kindness and their many messages of support.'
Davidson is currently on the road with No Further Action, the show he premiered at last year's Edinburgh Fringe, which covers his arrest as part of the Operation Yewtree inquiries into historic sex abuse accusation – and the length of time it took investigators to dismiss the allegations against him.
Published: 2 Feb 2015
What do you think?