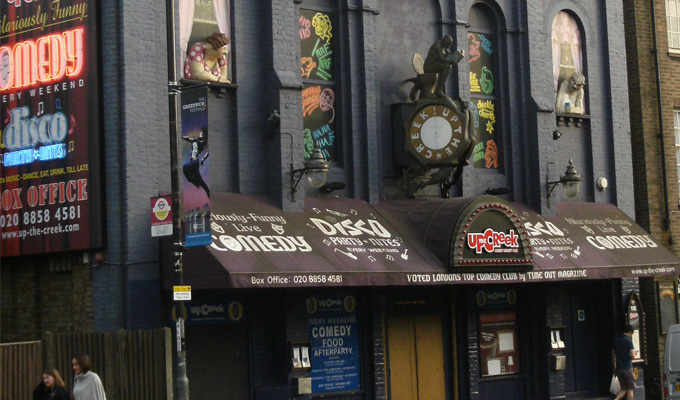 Up The Creek to expand
London's Up The Creek comedy club is to expand.
The Greenwich venue is adding a new bar and box office next year. It also hopes to expand its programme to include more radio recordings, previews and new act formats to reduce its reliance on weekend club audiences alone.
The venue was opened by alternative comedy 'godfather' Malcolm Hardee in 1991, following the closure of his notorious Tunnel Club. He sold his stake in 2001.
A spokesman for he venue said: 'The current toilets and back bar are no longer sufficient to deal with larger audiences. A bigger plot has been acquired next door so that the toilets can be doubled and a larger bar can be built.'
Concerns had been raised about the future of the club after an estate agent's 'for sale' sign was seen outside, seeking buyers for the upper floor.
However, owner John McGirr changed his plans and will now maintain the upper floor as a separate performance space.
The spokesman added: 'The original thought was that with such an extensive expansion the upstairs would be superfluous - but the owner has since decided to keep the upstairs as well. This will be used as an additional performance space for previews etc.'
Upstairs includes a mural replicating the Last Supper, featuring Malcolm Hardee as Jesus and various 1980s comedy circuit figures as his disciples. Ben Elton is depicted as Judas.
The venue will not have to close during building work – and the new bar will be open in the daytimes too.
Published: 18 Dec 2014
Recent News
What do you think?