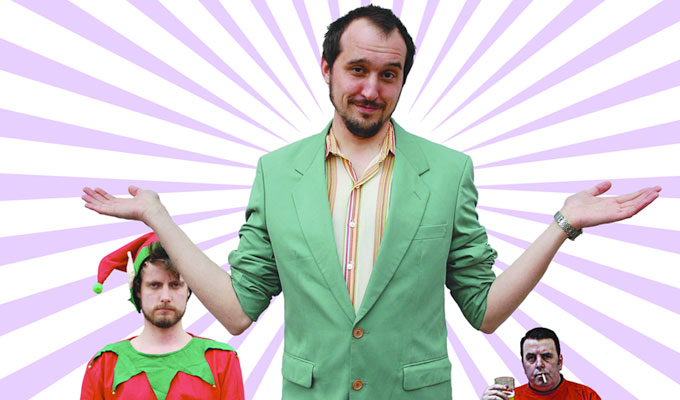 Industrial espionage to Funz And Gamez...
The comedy week ahead…
Today
LIVE IN LONDON: Aziz Ansari, star of Parks and Recreation and a very accomplished and smart stand-up in his own right, performs two shows at the Hammersmith Apollo, at 6pm and 8.45pm.
Monday December 1
RADIO: Highlights from the first semi-final of the BBC New Comedy Award, recorded at the Glee Club in Birmingham, get an airing on Radio 2 tonight, hosted by Patrick Kielty. 10pm
LIVE IN LONDON: Mark Thomas begins a two-week run at the Tricycle Theatre with his show Cuckooed, telling the true story of how he discovered his close friend was spying on him for Britain's biggest arms dealer. It is what Thomas does best; mining his experiences as an activist for laughs, while making salient points along the way. Our review
Tuesday December 2
LIVE IN MANCHESTER: A couple of very interesting newer acts at XS Malarkey tonight, with bonkers true-life tales from Harriet Dyer and ambitious, inventive and intelligent stand-up from Phil Jerrod.
LIVE IN LONDON: Alfie Brown is one of the more daring comedians of his generation, and even though his challenging routines sometimes misjudge the balance between funny and polemic, at his best he is brilliant, and at his worst still fascinating. Here's at the Soho Theatre all week with his latest show, Divorced From Reality (And My Wife) Review.
Wednesday December 3
LIVE IN LONDON: Revolutionaries rejoice, as an ancient City institution is overrun by a ragtag band of radical, rambunctious comedians. It's the opening night of the pop-up venue Heroes: Grotto of Comedy within the once lavish Throgmortons. It kicks off with John Robertson's fiendishly difficult comic adventure The Dark Room. Tomorrow is the always entertaining Mr B The Gentleman Rhymer; Arthur Smith hosts his pissed-up chat show with drunk guests on Friday; and Saturday is an improv night with a selection of the best ad-libbers in the business.
LIVE IN BRIGHTON: A strong and varied bill at the Comedy Rocks gig at the Komedia tonight; with the withering French distain of Marcel Lucont, the robust observational comedy of Zoe Lyons, the underrated Michael Fabbri and others, all compered by the superior Simon Evans.
Thursday December 4
LIVE IN CARDIFF: One for all the single ladies.. and everyone else besides: Luisa Omielan brings her uplifting party-comedy show What Would Beyonce Do? to the Wales Millennium Centre tonight.
LIVE IN LONDON: At the Soho Theatre, troubled stand-up Richard Gadd starts a three-week run of his intense and deranged new show Breaking Gadd, in which he tries to piece together his life after a mysterious blow to the head. Here is our review from the Edinburgh Fringe.
Friday December 5
RADIO: Following its Chris Morris retrospective, Radio 4 Extra repeats the second series of his dark sketch show Blue Jam, first broadcast on Radio 1 in 1998.11pm
Saturday December 6
LIVE IN LONDON: Phil Ellis's chaotic Funz And Gamez was the sleeper hit of the Edinburgh Fringe, uniquely combining anarchic gameshow-type fun genuinely aimed at kids with parallel gags about desperate washed-up entertainers for the mums, dads and other grown-ups. The show, which won the Foster's panel prize at the festival, begins a Christmas holiday residency at the Soho Theatre today. Review
RADIO: Stephen Fry take over the 'Comedy Controller' slot on Radio 4 Extra to present three hours of archive shows, including his childhood favourite Men From the Ministry, the output of his friend Douglas Adams, his own show Saturday Night Fry and more up to date with spoof phone-in Down the Line, starring Paul Whitehouse, Rhys Thomas and Charlie Higson. From 9am
Published: 30 Nov 2014
What do you think?