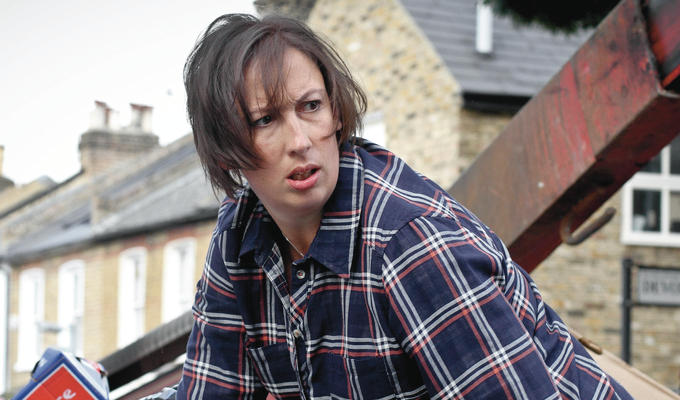 Miranda Hart branded plasters, anyone?
• It's not possible to be credible, cool and funny at the same time.' Russell Kane.
• Sarah Millican recalls as a child teaching all the girls in her school year a dance to the Five Star song, Can't Wait … well, all except one pupil who said it was against her religion to listen to the group. 'I still haven't worked out what religion that is,' the comic tells Gigglebeats. 'Mormons? She was fine with Abba but not with Five Star.'
• Miranda Hart has launched a range of merchandise she admits is 'naff… but fun'. Items on sale at her new online store include a bobble hat, lip balm and even an emergency plaster pack, all branded with her name.
• Richard Gadd is returning to the Soho Theatre for a run of his latest show, Breaking Gadd next month… and hopefully it will be more incident-free than his last visit. Then he forbade an audience member from going to the toilet, but, he recalls, they were so desperate 'that they found a way to sneak into my backstage area without me noticing, and unload themselves on my costume for later in the show as well as ruining some expensive lights too. Talk about payback.'
• Tim Minchin is to perform a gig at the Sydney Opera House – but not inside, on the steps. The gig takes place on February 23
• Home Secretary Theresa May chose a recording from Yes, Minister as one of her Desert Island Discs. Radio 4 played a clip from The Compassionate Society, about a new hospital treating only one patient, during last Sunday's show.
• Stand-up Andre Vincent thinks it might not be worth subscribing to actors' casting website Spotlight any more – after they sent him a role they suggested he might be perfect for: A baby in a Halifax advert.
• Robert Newman says that an Old Etonian pointed a gun at him during his days at Cambridge University. While not recalling what led up to the incident, he added: 'If it was some inner city kid it would be a major incident, but you think "Oh well, that's what posh people do! Silly japes, let's not be a bad sport."'
• Eric Idle's old home in St John's Wood, North London, has been put on the market for just under £9million. The Python star owned the six-bedroom Victorian house at 78 Carlton Hill from the mid-1970s to the mid-1980s and would often let showbiz friends stay there while he was off filming. Among them were Carrie Fisher, who partied all night with Harrison Ford and the Rolling Stones while in London making The Empire Strikes Back. Have a snoop around here.
• Corporate corner: James Corden has hosted the British Hairdressing Awards.
• Lucille Ball is being brought back to life – as a hologram. Experts have  developed a version of a scene from I Love Lucy which will be unveiled at the Lucille Ball Comedy Festival in the comedian's home town of in Jamestown, New York, next summer.
• The good folk at  Us Vs Th3m have created a sitcom map of London, showing where all the classic shows were set. It's here.
• Steve Coogan turned on the Christmas lights at Stella McCartney's London store this week, rubbing shoulders with the likes of Kylie Minogue and socialite model Poppy Delevingne.
• He's a bit behind the curve when it comes to internet memes, but Noel Gallagher ends his texts to pal Russell Brand with: 'PARKLIFE!'
• Tweets of the week
Sleepwalkingdog  (@sleepwalkingdog):  Who called it War Horse instead of Aclipclopalypse Now.
Darren Walsh  (@theGiantTweets):  I went to a charity shop to buy a Ravi Shankar costume. Clothes, but no sitar.
 David Whitley (@mrdavidwhitley):  "My name is Maximus Decimus Meridius, commander of the Armies of the No..." "Is it OK to just write Maximus on the cup?"
Published: 28 Nov 2014
Recent News
What do you think?