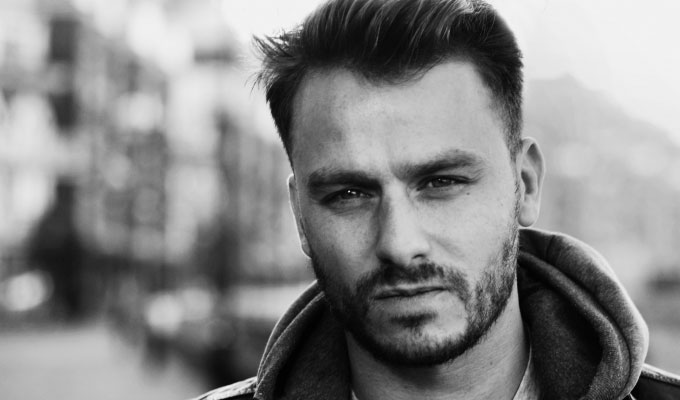 Dapper Laughs tells a woman: 'You're gagging for a rape'
Footage has emerged of Dapper Laughs telling an audience member she was 'gagging for a rape'.
The comic was filmed by a fan during his show at the Scala in London last month.
He denied his ITV 2 show On The Pull was a 'rapists' almanac' – as originally alleged by fellow comic Lee Kern in a Chortle Correspondents piece.
He told the audience: "I filmed six episodes, half an hour each, if it was a guide to rape, it would have done one five-minute episode, come on and go "Oi Oi, I'm Dapper Laughs, go down the shops, get some rope, bit of duct tape, rape the bitch, well done, see you later'."
He then tells the crowd: 'You can't rape women, no, you can't rape women' – to which one male voice shouts out: 'Yes you can!' 
Dapper Laughs, whose real name is Daniel O'Reilly, then turns to a woman in the front row, saying: 'She's gagging for a rape. Yep, we'll have a chat afterwards… Do you want to come backstage after? Bring two of your mates, you'll need 'em.'
Here is the footage:
At the weekend, the comedian issued an apology to anyone he upset – saying that 'pushing the boundaries' and 'taking risks' was an integer part of comedy.
In a statement published via Twitter, after being accused of orchestrating social media campaigns against his critics, he said: 'I know there has been heated commentary on social media in recent days, online abuse of any kind is wrong. Therefore I would like to say a few words to make my views clear.
'Some comedians push the boundaries in the name of entertainment. That means taking risks. But I think it's important that if we over step the mark and cause upset that we apologise. I would like to say sorry to those people who I have upset by my recent comments. I assure them that was not my intention.'
In open letter, a total of 44 comedians, including Katherine Ryan, Jenny Éclair, Daniel Sloss and Arabella Weir, have hit back at his claims of 'pushing boundaries', and said they were taking a stance over misogyny dressed up as 'banter' or 'laddism'.
An online petition urging ITV2 to pull the show because it normalises everyday sexism has so far attracted more than 40,000 signatures.
However ITV have defended the programme, claiming: 'Dapper's pulling tips are firmly based on treating women with respect and speaking to them in the right way and this is the message he gives to all singles on the show during the series.
'We realise that all humour is subjective and accept that Dapper's humour is more risqué but we feel that his unique brand of banter and brash charm is neither sexist nor degrading to women and that his approach to pulling is based on displaying the right attitude to women in order to succeed.'
Last week Dapper was publicly humiliated after homeless charity Shelter announced it would not accept any proceeds from his Christmas album, which he had said was releasing in aid of the homeless. He has not yet said which charity will receive the money.
Donations to Shelter rose following the announcement. 
 
Published: 10 Nov 2014
What do you think?