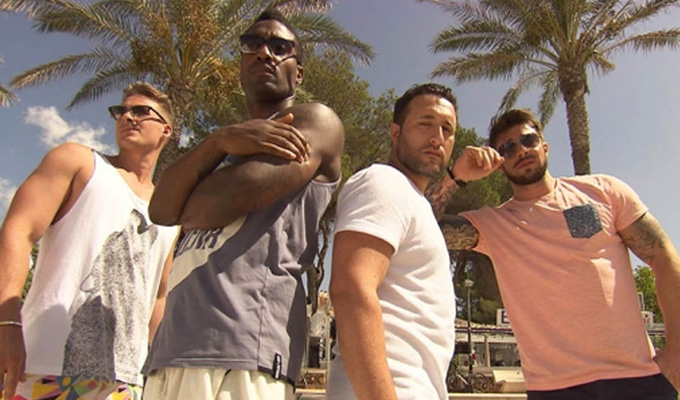 The comedians who fooled Blue
A group of comedians have filmed an ITV prank show at the expense of boyband Blue.
In Blue Go Mad In Ibiza, the band were given the challenge of running a beachfront bar in San Antonio on the Balearic island, unaware that their staff and customers were played by comics.
Nish Kumar, Ed Gamble, Milo McCabe, Georgia Brown, Sam Pamphilon and Richard Bond from sketch group Clever Peter all feature in the four-part series for ITV2.
Blue - Antony Costa, Duncan James, Simon Webbe and Lee Ryan - spent two weeks trying to make the bar a success in late August and early September while the comics contrived to undermine them. The series will air early next year.
Gamble, most recently seen in E4's mockumentary Almost Royal, plays a troublesome groom on his honeymoon, while Brown is his bride.
McCabe, who's previously appeared as Philberto, a Portuguese, ex-reality star on the stand-up circuit, portrays Juan, a local policeman, while Pamphilon is the chauvinistic head bar man. Bond is a flamboyant PR guru and Kumar is the enigmatic Polaris the Shamen.
Blue, who have just announced a new album and tour, and previously appeared on the ITV2 reality series The Big Reunion as part of their revival, said: 'We thoroughly enjoyed running the bar and definitely see a potential future in this for Blue, but we still can't believe we were fooled into believing our closest confidantes in the bar were genuine!
'We've got into some unusual predicaments during our time in the band, but what the team tricked us into on the show was unbelievable… we're still shocked we didn't guess!'
Ryan previously appeared on Celebrity Big Brother with Jim Davidson and claimed that the comedian must have had a 'secret call centre in India' full of people repeatedly voting for him to win.
Blue Go Mad In Ibiza is a Potato Production for ITV2 and was commissioned by ITV Factual commissioning editor Katy Thorogood. The executive producers are Phil Mount and Michael Kelpie and the series producer is Kate Jackson.
By Jay Richardson
Published: 6 Nov 2014
What do you think?