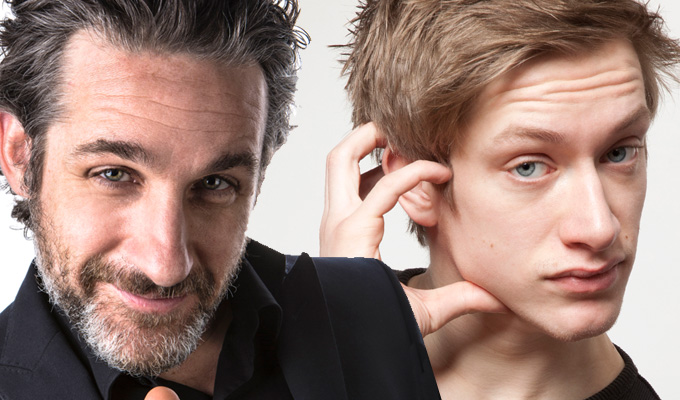 Sloss and Stade make 'offensive' sitcom
Daniel Sloss and Tom Stade are to create a 'very offensive' online sitcom.
M.U.F.F is set in the offices of a morally bankrupt, hugely successful company making 'some of the most generic, hack, borderline offensive, shit TV shows that are obviously lapped up by the adoring public'.
The pair are seeking crowd funding via the Indiegogo website – but say they will make the six-part series even if they fall short of the £25,000 target.
Sloss told Chortle that they have turned to the internet rather than take the idea to television because 'we don't want anyone else's input. We don't want to have to deal with all that level of "you can't do this, you can't do that, maybe you could do this …?"'
Sloss, currently on tour in Lithuania, maintains that even if they don't hit their target by December 28, he and Stade will make up the shortfall because 'this is the passion project I didn't have. This is the one that I'm very much getting into because it's so dumb'. He and Stade will be taking no fee from the project.
Stade plays JP, head honcho of M.U.F.F. Productions. 'He's essentially playing himself because Tom is such an unbelievable human being, it's hard to believe he's real sometimes,' Sloss explains. He plays intern Lawrence, joining the company naively believing that television should be art.
A 'liberal douche', who 'will let you know he's a feminist because he knows who Germaine Greer is and only watches lesbian porn', Lawrence is a 'liberal version of myself who comes into the company and finds chaos'.
Co-starring are filmmakers Charlie Parker and Joe McTernan of Broken Blonde, plus comics JoJo Sutherland as company director Hillary, and Wayne Mazadza as Christian, 'the ideas guy and finance dude'.
Written by Stade and Sloss with the latter's flatmate and long-time support act Kai Humphries, the show only features snatches of M.U.F.F.'s programming but promises to feature further guest comedians.
The crowdfunding appeal video includes Alexis Dubus in the trailer for Britain's Next Top Heart Surgeon and a voiceover by Humphries.
Filming is scheduled to begin in Edinburgh in December and Sloss adds that 'it's a love letter to television in that way that Galaxy Quest is a love letter to sci-fi, a TV show that could never make it onto television'.
Stade has previously experienced notoriety as one of the writers of Frankie Boyle's controversial Channel 4 series Tramadol Nights.
Sloss argues that M.U.F.F will be 'very offensive, but only if you're an idiot. We thought "what if, for the first time ever, we can do whatever we like?"'
The Edinburgh-based comic recently signed a deal with Conan O'Brien's production company Conanco to develop a loosely autobiographical sitcom in the US.
By Jay Richardson
Published: 30 Oct 2014
What do you think?