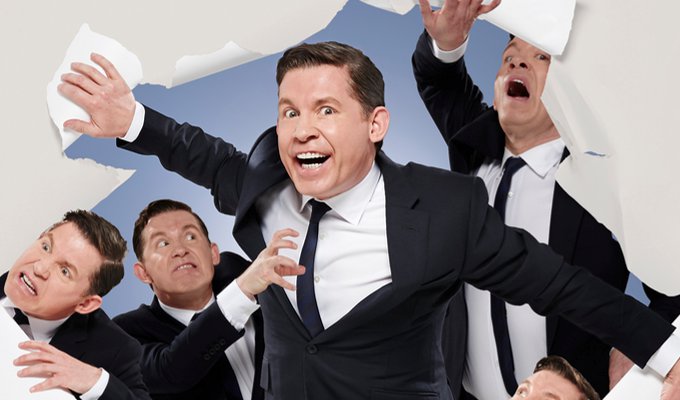 Revealed: The habits of comedy-goers
The top five touring stand-ups sell more tickets than every other comedian put together.
That's the result of a comprehensive study of the live comedy industry that reveals the extent to which audiences play it safe.
Half the people who go to comedy say they would not to pay to see someone live who they hadn't seen on TV, according to to the research by Ticketmaste
Two-thirds of comedy-goers say they would rather go to a big comedy tour with a famous comedian rather than a smaller event with mostly unknowns.
Since 2009, the top five selling tours of each year have accounted for 59 per cent of comedy tickets sold, on average.
The comprehensive report also found that:
• Ticket sales for female comedians are soaring, having soared 12-fold since 2009 and trebled since 2011. However, the relatively small number of big-name female acts is likely to skew figures, with Miranda Hart, Dawn French and Sarah Millican on tour in 2014. Currently the biggest name to have announced more than a couple of dates in 2015 is Suzi Ruffell.
• Shows by female comedians account for 14 per cent of all comedy events sold, as opposed to two per cent in 2009
• Lee Evans is the UK's favourite comedian
• Heckling and updating social media during a gig is considered the most unacceptable behaviour
• A huge rise – 46 per cent – in the number of comedy events outside of London, driven by an increase in regional theatre tours. London comedy fans are the most likely of any region to enjoy going to comedy clubs – although they still prefer arena tours.
• The biggest group of comedy attendees come from households with an income of £20-39,000, with 29 per of comedy audiences coming from London and the South East. However, as a proportion, Northern Irish comedy fans are the most likely to go to a live show (62 per in the last year compared to 49 per cent of Londoners).
• Half the British population have been to at least one comedy event in the past three years, with the majority of comedy-goers 25 to 34 years old.
• Ticket prices are the highest 'barrier to entry' for people going to gigs. The average ticket price for a theatre show is £27.20, and for an arena show £35.40.
• Comedy-goers prefer theatres (39 per cent) to arenas (29 per cent)
• Jokes about family are judged to be the funniest, but audiences say they find jokes about disability a turn-off. Generally men have fewer taboos that women.
• One in five comedy-goers have felt 'disgust' after watching a routine.
• 32 per cent of people say that reviews influenced what comedy shows they go to see. 14 per cent of people get their information about comedians from the Internet.
• 82 per cent of comedy goers own a live comedy event DVD, and 17 per cent own more than ten.
• Comedy purchasers from Ticketmaster travel on average 34.2 miles to attend live events. However this figure has been steadily decreasing since 2010.
• In terms of comedy styles, just under a quarter (24 per cent) like comedy that tells a story best, 21 per cent prefer dry humour, over one in ten (12 per cent) love sketches, whilst dark humour appeals the most to a tenth (10 per cent)
• Five per cent of people have admitted to literally wetting themselves laughing at a comedy gig.
The Ticketmaster report surveyed 2,499 members of the public, including 1,259 comedy attendees ,as well as analysing its now ticket sales.
The report produced several charts. The top ten favourite comedians are, in order.
Lee Evans
Michael McIntyre
Peter Kay
John Bishop
Jimmy Carr
Billy Connolly
Russell Howard
Kevin Bridges
Jack Dee
Frankie Boyle and Miranda Hart, joint equal
The top-selling female comedians since 2009
Sarah Millican
Miranda Hart
Dawn French
Pam Ann
Joan Rivers
The top-selling male comedians since 2009
Michael McIntyre
Peter Kay
Lee Evans
Micky Flanagan
Jimmy Carr
And this shows the types of comedy with the biggest differences in what men find funny but women don't:
Sexual
Death
Religious
Race (though strongly negative for both genders)
Toilet humour
Comedy fans admitted that they often prefer attending comedy events as they see it as a cheaper and more accessible form of live entertainment. Customers of over-£30 gigs also say they are generally willing to pay more than they currently do for a ticket. Just over half would consider paying extra for a VIP package
Ticketmaster's vice president of Insight, Sophie Crosby, trotted out the old cliche that 'Comedy is the new rock'n'roll' adding: 'There are a lot of positives the industry can take from the report – not least the popularity of live comedy and the willingness of consumers to attend... and in the UK, it's more accessible than ever.'
'The industry is in rude health and it's fantastic to see that the public are engaging in a range of options for seeing live comedy – from arena tours with the country's biggest comedians to shows in smaller regional venues.'
The full report is available here
Published: 30 Sep 2014
What do you think?