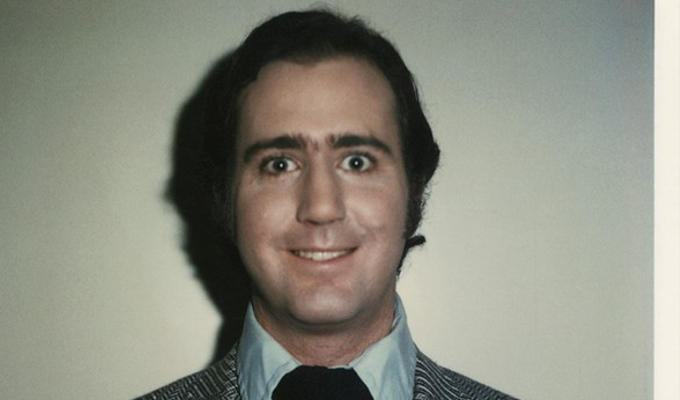 Still alive: The rumours that Andy Kaufman faked his death
The story that Andy Kaufman faked his own death 30 years ago has been revived by his pal.
Bob Zmuda, who has made a career from his friendship with the great prankster, has previously maintained Kaufman would not be so cruel to his family to pull off such a stunt.
But now he has a book to sell – Andy Kaufman: The Truth, Finally – in which he claims the comic did, in fact, fake his own death, and describes exactly how he did it and why he will return.
The hoax rumours have become so persistent that the Los Angeles County Coroner last year re-released Kaufman's death certificate to put an end to the speculation. It states that he died of renal failure at Cedars Sinai Hospital in May 16, 1984, aged 35.
In his new book, Zmuda claims that Kaufman told him he would 'fake my death by making people believe I had terminal cancer'.
He describes how, when Kaufman began to cough randomly, he told him: 'Stop with the coughing already — I think it's a dead giveaway.'
'I don't know,' Kaufman replied. 'Everyone seems to believe it.'
Kaufman is said to have pulled off the hoax by finding a body double who was actually dying of cancer, and started to mimic the man's condition. When the lookalike died, he was supposedly buried as the comic – who started a new life.
Zmuda has often recalled how he and Kaufman would often discuss how to fake a death, and in 2004 hosted a party in the hope his friend would reveal the hoax on its 20th anniversary. Now he says that Kaufman had decided on a 30-year timeframe, even though that anniversary has passed.
It is that fact, Zmuda says, that has prompted him to speak out now. He writes: 'The only reason I'm giving it up now is that Andy set a time limit on this one. Thirty years. So I've kept my part of the bargain and kept my mouth shut. But no more. The prank's over. I want him back and he's coming back.'
Zmuda co-wrote the book, which has been summarised in yesterday's New York Post, with Kaufman's girlfriend Lynne Margulies.
If there was a fake death, she was not let in on the hoax, and in the book floats the possibility that Kaufman was bisexual and actually died of Aids, but did not want his parents – who are now both dead – to know.
Last year a 24-year-old woman was introduced on stage as Kaufman's daughter. She wasn't.
George Shapiro, Kaufman's longtime manager, has told CNN: 'He died. I was in the hospital' and the Los Angeles County Coroner has released a statement saying bluntly: 'Andy Kaufman is dead.'
• Andy Kaufman: The Truth, Finally is published tomorrow. Click here to preorder.
Published: 29 Sep 2014
Recent News
What do you think?