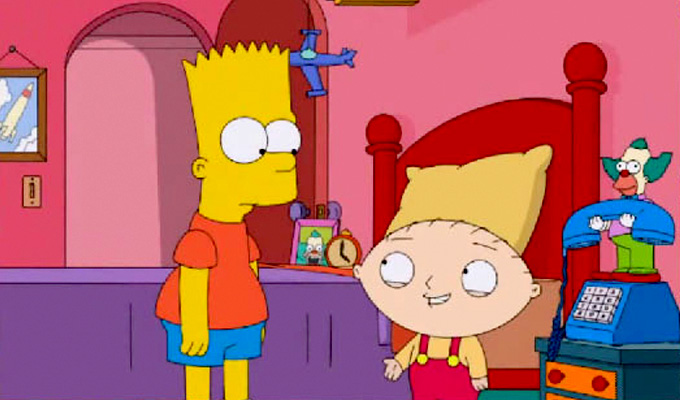 The Simpsons under fire for 'rape' joke
The Simpsons/Family Guy crossover episode has come under fire for featuring a joke containing the word 'rape'.
Campaigners at the Parents Television Council have called for the joke to be cut from the episode before it airs on America's Fox network on Sunday.
The gag, which has featured in a trailer, is about baby Stewie misunderstanding the nature of Bart's prank calls.
First, Bart calls Moe's Tavern and asks if there's anyone there with the last name 'Keybum' and the first name 'Lee' – causing the bartender to call out for a 'Leaky bum'.
Then an excited Stewie tries his version of the wind-up, and blurts out: 'Hello, Moe? Your sister's being raped.'
But the Parents Television Council have said that the joke – which reflects the different sense of humour between the family-friendly Simpsons and edgier Family Guy – is inappropriate.
'Rape is never a laughing matter. Never,' said president Tim Winter. 'It is simply indefensible for a broadcaster to use the publicly-owned airwaves to make tasteless and senseless jokes about rape.'
He added that the joke could have a 'devastating impact… on countless past, present and future victims of sexual assault'.
The group says it will lobby advertisers on both shows to 'ask if rape jokes reflect their corporate values' and put pressure on affiliate stations about broadcasting the scene.
Winters added that the timing 'when rape on college and university campuses appears to be endemic' made the offence worse.
He said: 'Sadly, Family Guy creator Seth MacFarlane has made a routine habit of joking about sexual violence, including jokes about date rape, pedophilia, and even raping a nine-year old girl.
'When recently-appointed Fox Broadcast Network executive duo Dana Walden and Gary Newman told their staff members that they would support the vision of their creators, wherever it may lead, did it include being led to laughing at humanity's most horrific criminal acts against children, women and men?'
But not all agree, Katherine Hull Fliflet from the Rape, Abuse and Incest National Network, said: 'I think the show is making it clear that rape is not funny by how they are positioning the joke. It's my hope that would be the viewers' take-away.'
Fox has said it would not comment on the complaint, and there has been no response from Simpsons creator Matt Groening or MacFarlane.
The Parents Television Council was founded by Christian conservative activist L. Brent Bozell III in 1995 – and Family Guy has been one of their regular targets.
MacFarlane once said that their complaints were 'like getting hate mail from Hitler. They're literally terrible human beings. I've read their newsletter, I've visited their website, and they're just rotten to the core. For an organisation that prides itself on Christian values – I mean, I'm an atheist, so what do I know?—they spend their entire day hating people. They can all suck my dick as far as I'm concerned.'
Here's the trailer featuring the offending clip.
And click here for more clips from the episode.
Published: 25 Sep 2014
What do you think?