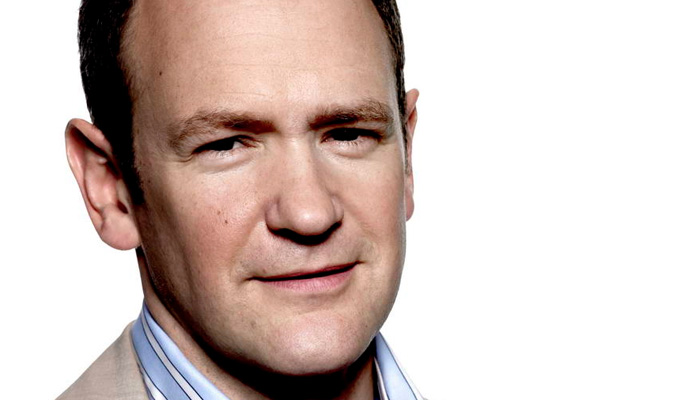 Alexander Armstrong IS Danger Mouse
Alexander Armstrong and Kevin Eldon are to voice Danger Mouse and Penfold when the children's animation returns next year.
The duo will replace Sir David Jason and the late Terry Scott respectively when the 'reimagined' show returns after a 23-year absence.
Armstrong said he was a 'lifelong fan of Danger Mouse' adding: 'To be actually involved with the reboot and to be taking DM out to a whole new generation is about as close to a dream job as you could wish for.'
Eldon added: 'When I am recording the episodes, I'll be making sure that at all times my eyebrows are at least three inches above my head.'
Dave Lamb, the voice of Channel 4's Come Dine With Me, will be the new narrator; while comedy actor and writer Morwenna Banks will take other roles.
In a move that adds more female characters, professor Heinrich Von Squawkencluck – a Q-like inventor with a heavy German accent - is being replaced by his niece, played by Shauna MacDonald.
CBBC controller Cheryl Taylor said: 'We're all genuinely bowled over to have Kevin and Alexander on board as Penfold and the mighty DM himself.
'They are both funny and fabulously talented performers and along with well-loved CBBC favourite, Dave Lamb, will ensure that the series' considerable comedy credentials are bestowed on a new generation of fans.'
Lamb has previously provided the voice-over on the CBeebies animation series Big Barn Farm and co-presents Horrible Histories: Gory Games.
A total of 52 episodes of the new Danger Mouse are in the pipeline
Published: 18 Sep 2014
What do you think?