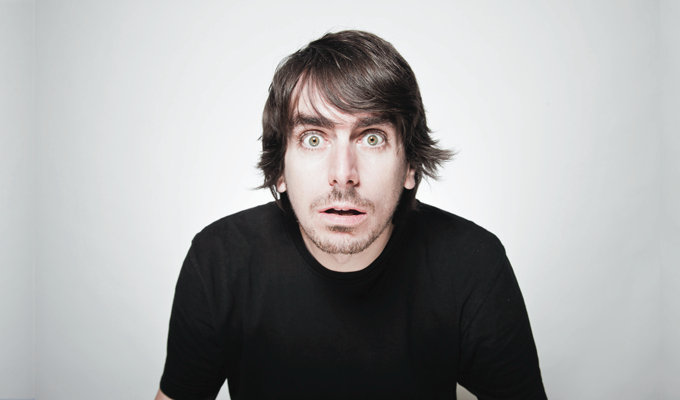 An o-pun book
COMEDIAN Darren Walsh – who was named UK pun champion at the Leicester Comedy Festival last year – has landed a book deal. Cheep Laughs is a collection of 1,025 'really daft' gags. He said: 'It's about half all the jokes and drawings I've done since starting stand-up four years ago. The other half will hopefully be released in a second book, if all goes well'. The book is released on October 2 on Cornerstone. Click here to preorder.
RICKY GERVAIS was accused of victim-blaming yesterday after tweeting in the wake of the Jennifer Lawrence hacking scandal: 'Celebrities, make it harder for hackers to get nude photos from your computer by not putting nude pics of yourself on your computer.' Defending himself from a backlash, he said: 'Of course the hackers are 100% to blame, but you can still make jokes about it. Jokes don't portray your true feelings on a subject.' However he subsequently deleted the offending tweet.
Miles Jupp's stand-up show Fibber In The Heat – about the time he blagged his way onto the press corps covering the English cricket team's tour of India – has been released on DVD. The title, on indie label Go Faster Stripe, also includes Jupp's full 90-minute appearance on Richard Herring's Leicester Square Theatre Podcast. Click here to buy.
MARK THOMAS has announced a 37-night UK tour of his acclaimed Edinburgh show, Cuckooed, about how a BAE spy infiltrated an anti-arms trade campaign group the comedian was heavily involved with. The tour starts in Oxford on October 15 and ends with a two-week run at the Tricycle Theatre in Kilburn, North London, at the start of December. Full dates and review.
Reece Shearsmith has been named an official Yorkshire Patron by the county's tourism chiefs, joining ambassadors including Sir Patrick Stewart, Sir Michael Parkinson and Brian Blessed. The Psychoville and League Of Gentlemen star said: 'I'm very proud to be named a Yorkshire Patron. My family still live in Hull and I retain strong links with the area. From the origins of The League of Gentlemen through to being given an honorary degree from the University of Hull last year, Yorkshire's played a big role in my career.'
Published: 2 Sep 2014
Recent News
What do you think?