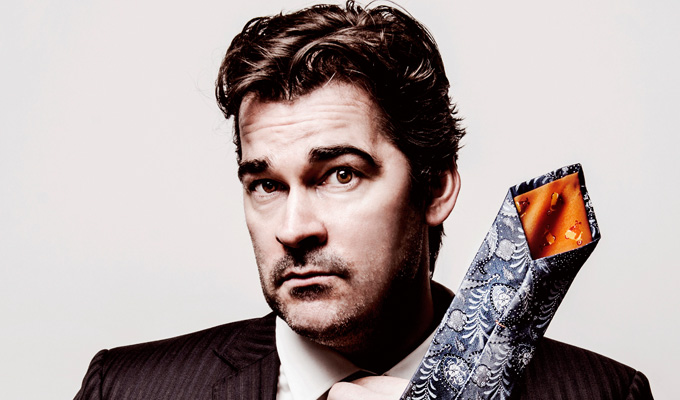 Scandi-sitcom for Adam Riches
Adam Riches is to star in his first sitcom, as a failing stand-up who moves to Sweden.
Radio 4's In The Cold Swedish Winter was recorded in Stockholm on the island of Lidingö, with the former Edinburgh Comedy Award-winner joined by The Killing star Farshad Kholgi and a cast of some of Sweden's most popular comedy actors.
The four episodes, which air from August 11, will be Riches's second show on the station, with his sketch show, The Guns of Adam Riches, returning for a second series on August 19.
The sitcom is written by stand-up Danny Robins, aka DJ Danny, loosely based on his own experience of having a Swedish wife and touring there – though he's never lived in the country.
Riches plays Geoff, an English comedian 'who never quite made it' the writer explains. 'His agent tells him Mock the Week do want him, he just need to wait until Hugh Dennis gets ill.'
When his girlfriend Linda gets pregnant and decides she wants to move back to her home town, 'the tiny and utterly unpronounceable Yxsjö', he decides to leave his career behind, although the first episode features him trying to set up a stand-up night and struggling to find an audience.
'I'm a committed Swedophile,' Robins says. 'I met my wife Eva back in 2005 – at a DJ Danny gig incidentally, she was in the audience – and since then I've travelled over there a lot, learned the language and developed a huge interest in the country. I've even developed a taste for pickled herring for breakfast, though I'll never understand their national passion for salty liquorice'.
Robins's father-in-law was 'mayor, just like Geoff's, though a lot less scary, and loads of the odd customs and rules that wind Geoff up are things that I have had my own head done in by. It's a wonderful country that I love dearly but the layers of bureaucracy and their odd social rituals can be maddening'.
Robins has previously made documentaries on Sweden for Radio 4 and BBC 6 Music. But this is Radio 4's first sitcom recorded abroad.
Linda is played by Sissela Benn, who played the equivalent character to Dawn in Sweden's version of The Office, while stand-up Frederik Andersson, who performs in the UK, is her brother Anders, a death metal-obsessed hacker, pyromaniac Goth, loner and 'male version of Lisbeth Salander' from Stieg Larsson's novels.
Kholgi plays Soran, the Kurdish-Danish pizza kebab shop owner, while comedian and singer Anna-Lena Bergelin, 'kind of like their Victoria Wood' and stand-up Thomas Oredsson play Linda's naked folk dancing mother and aggressive father. Robins portrays Ian, Geoff's friend and the only other Englishman in town, who 'struggles to translate stuff like The Wire and Top Gear into Swedish'.
The Cold Swedish Winter's premise is similar to that of TV sitcom, Welcome To Sweden, which airs on NBC in America and was based on star Greg Poehler's moving from New York to his girlfriend's homeland. Poehler's sister Amy and fellow Parks and Recreation star Aubrey Plaza have appeared as themselves in the series.
Robins says his sitcom - to be produced by Frank Stirling for A Unique Production –is 'partly based on me but also based on various friends of mine, both English and American who have moved over to Sweden'.
'Before writing it, I chatted to lots of guys over there about what the challenges of adapting to Sweden – the pros and cons of life there. I guess Al Pitcher was in part an inspiration too, in as much as he was an English speaking stand-up who'd gone over to Sweden and become a big success there'.
Subverting Scandinavian stereotypes was crucial. 'I think listeners will find they actually learn quite a lot about Sweden from this. We're able to explore some quite interesting stuff about the Swedish psyche, but from the foreigner's point of view, and of course comedically, so making it accessible and interesting to an audience who don't know Sweden.
'We deal with stuff like the ridiculously uptight and restrictive alcohol laws, the concept of Lagom which means fairness in society, and the bi-polar nature of Winter Swedes and Summer Swedes – they're like Jekyll and Hyde when the sun comes out after the long dark and cold winter. Geoff also attempts to learn the language and is delighted by the fact that the Swedish version of Masterchef is called Mästerkock.'
Robins maintains that it was vital to have a Swedish cast, because 'I just don't think any English speaking actor – even a Daniel Day-Lewis – could accurately capture that wonderful sing-song intonation of Swedes speaking English'.
And 'once we heard Adam read for Geoff we knew he was perfect for the part. For my money he's one of the funniest actors around right now.'
Riches begins his Edinburgh Fringe run of Adam of the Riches tomorrow, featuring interpretations of actors Sean Bean and Ryan Gosling among others.
Robins, meanwhile, is currently adapting a stage version of his and Lenny Henry's Radio 4 series Rudy's Rare Records, as revealed by Chortle, with rehearsals starting as The Cold Swedish Winter goes on air.
'Lenny and I are both very excited about it' Robins confirms. 'We're going to have a live band on stage playing lots of the reggae and ska classics we always featured in the radio series. It's going to be booty-shaking.'
No decision has been made yet about the pilot for a television version, which was shot in Birmingham in March.
-by Jay Richardson
Published: 29 Jul 2014
What do you think?