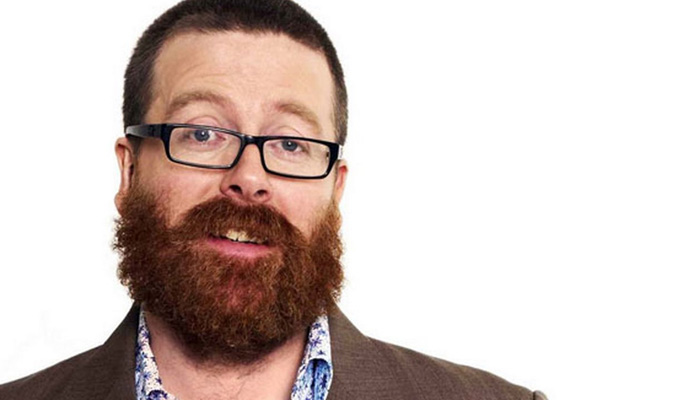 Frankie Boyle stars in his first film
Frankie Boyle is to star in his first film.
The teetotal comic plays a recovering alcoholic in Gasping, the directorial debut of Still Game's Greg Hemphill.
Shot in Glasgow in May, the short was will be shown around the film festival circuit before airing on BBC Scotland.
It was co-funded by the BBC and arts agency Creative Scotland, and also stars Still Game's Gavin Mitchell as a fellow Alcoholics Anonymous attendee and Gianni Capaldi as Boyle's best friend.
Capaldi told film website Action Elite that 'Boyle gives up drinking in this flick and he loses his job because he had a drink problem, so I offer him a job to work at a distillery I owned.
'So all I'm doing is reminiscing about the days when we used to party and drink. We went to Japan and everywhere else in the world and I'm trying to get him back on the drink. I'm that obnoxious annoying friend who is continuously trying.'
Shot in locations including Glasgow Airport, Gasping is made by Hopscotch Films, who have produced several documentaries about Scotland for the BBC fronted by Hemphill. The company also made BBC Scotland's children's introduction to philosophy, Enlighten Up!, with Burnistoun's Robert Florence and Iain Connell.
Former Mock The Week panellist Boyle is currently experiencing a renewed working relationship with the corporation, writing the Radio 4 pilot Blocked with Steven Dick and appearing in an iPlayer short with Bob Mortimer.
In his 2009 autobiography, My Shit Life So Far, he reflected on the alcoholism that caused the collapse of his first marriage:
'I was drunk for the courtship, proposal, wedding and most of the year-long marriage itself. I know that I should probably em and ah a few regrets here but, to be honest, drunkenness is quite a good way to approach marriage. Relationships are largely about blotting out other people's failings, having an idealised version of somebody to relate to. It's so much easier not to notice these failings when you can't see your own face in a shaving mirror and sleep like a well-fed hamster. Fuck it, I tried. Oh no, wait a minute, I didn't.'
In an interview with the Herald at the time, he elaborated further on his drinking and drug use and shared his scepticism about Alcoholics Anonymous:
'I don't believe in alcoholism and how it's presented. I don't believe in AA. I don't believe I'm a recovering alcoholic – I'm someone who used to drink. AA comes from a religious movement and that whole thing of "I'm always burdened with this" and the Original Sin idea. It's not like that for me. Drinking was just something that happened.'
Meanwhile the revival of Still Game will be playing 21 nights at Glasgow's Hydro arena this September.
- by Jay Richardson
Published: 4 Jul 2014
Recent News
What do you think?