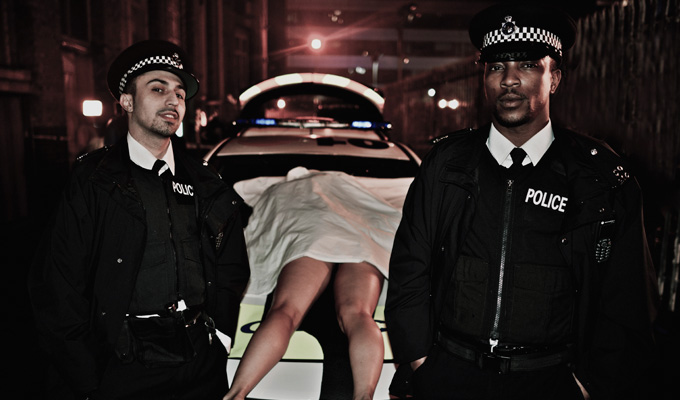 BBC announces new comedy pilots
Nine new comedy pilots are to be launched on BBC iPlayer next month, featuring the likes of Kayvan Novak, Aisling Bea, Josh Widdicombe, Tom Rosenthal and Katy Wix.
The new shows mark the third year of the Comedy Feeds, which have so far spawned full series of People Just Do Nothing, Nick Helm's Heavy Entertainment and Impractical Jokers.
BBC comedy controller Shane Allen said: 'This exciting range of shows and new talents cement BBC Three's place as the key place for emerging comedy talent on and off screen. With so many spin-off series springing from these, the Comedy Feeds show serious commitment to finding the next best writers, directors and faces of British comedy.'
This year's Comedy Feeds are:
IN DEEP. (Pictured) Two junior police officers plunge out of their depth when an undercover operation goes wrong. Starring Ashley Walters (Top Boy) and Adam Deacon (Kidulthood, Babylon). Written by Tom Joseph and Thomas Eccleshare. Produced by Josh Cole. Directed by Misha Manson-Smith. Executive Produced by Luke Alkin and Kenton Allen. Big Talk Productions.
FRIED. A new manager tries to motivate the staff of a fried chicken shop. Starring Katy Wix, Mandeep Dhillon, Simon Greenall and Imran Yusuf. Written by Jack and Harry Williams (Roman's Empire, Full English, Bamboo). Produced by Sarah Hammond. Directed by Nick Collett. Executive Produced by Harry Williams and Jack Williams. A Two Brothers Pictures production.
VODKA DIARIES. Four girls share a flat and get up to no good. Starring Aisling Bea, Cariad Lloyd, Rosamund Hanson and Gwyneth Keyworth. Written by Rachel Hirons (Powder Room). Produced by Iona Sweeney. Directed by James De Frond. Executive Produced by Lawrence Bowen. A Feelgood Fiction production.
OTHERWORLD. Surreal sketch show set in an alternative universe populated by puppets. Written by Adam Miller (Mongrels) and Nico Tatarowicz. Produced by Chris May. Directed by Adam Miller. Executive Produced by Helen Williams. Hat Trick Productions.
PARENTS' EVENING Multi-character comedy set over the course of a school parent's evening, with Kayvan Novak playing all the teachers. Written by Kayvan Novak. Produced by Tom Thostrup. Directed by Andrew Gaynord. Executive Produced by Derrin Schlesinger. A 2LE production.
FLAT TV. Two guys share a flat where real life gets confused with a fantasy TV world. Written by and starring Naz Osmanoglu (Live At The Electric) and Tom Rosenthal (Plebs, Friday Night Dinner). Produced by Rupert Majendie. Directed by Nick Collett. Executive Produced by Stephen McCrum. BBC Comedy Productions.
JOSH. Sitcom based on the stand up of Josh Widdicombe. Starring Josh Widdicombe, Elis James, Beattie Edmondson, Rose Robinson and Jack Dee. Written by Josh Widdicombe and Tom Craine. Produced by Simon Mayhew-Archer. Directed by David Schneider. Executive Produced by Stephen McCrum. BBC Comedy Productions.
RUDE BOYS. The antics of a group of friends in East London. Starring Jazzie Zonzolo. Written by Jazzie Zonzolo, George Sawyer and Sam Bryant. Produced by Sam Bryant. Directed by Ben Gosling Fuller. Executive Produced by Saurabh Kakkar. BBC Comedy Productions.
JENNY BEDE: AAA. YouTube comedian Jenny Bede presents and plays a range of well-known characters in a razor sharp parody of pop music TV. Written by Jenny Bede. Produced by Richard Webb. Directed by Al Campbell. Executive Produced by Mark Freeland BBC Comedy Productions.
The shows will premiere on July 20.
Published: 20 Jun 2014
What do you think?