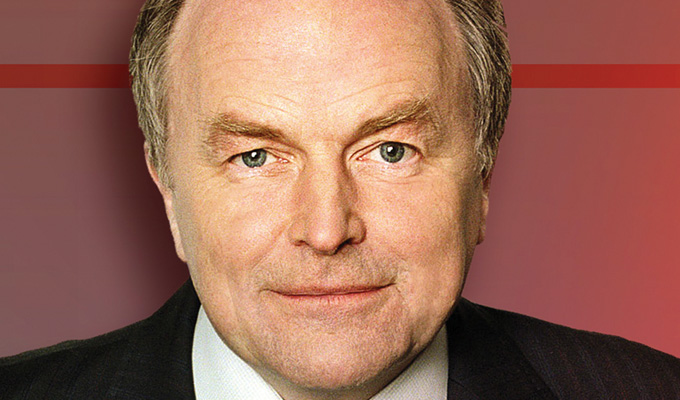 Whose Line Is It Anyway? to return
Whose Line Is It Anyway? is returning as a live show at the Edinburgh Fringe.
Original presenter Clive Anderson will host the adaptation of the hit improvisational comedy, which has been retitled Whose Live Show Is It Anyway?, because the producers, Get Comedy, don't hold the rights to the name.
Regulars on the decade-long Channel 4 series Greg Proops and Stephen Frost will also appear for the full,14-night run at the Underbelly's 1,000-seater McEwan Hall, with Josie Lawrence and Colin Mochrie confirmed as part of a wider, rotating line-up.
Mochrie, a Scots-born Canadian who will be making his Fringe debut, is currently appearing on the revived US television version of the show.
Chortle understands that Paul Merton and Phill Jupitus have been approached about participating, not least as they will be performing at the festival anyway, Merton with his own Impro Chums show. Mike McShane and Richard Vranch have also been approached. Vranch played piano on the TV show, but would be one of the players of the games in the live show.
However, Anderson hints that there might yet be more returning players from a show that started life on Radio 4 in 1988 with Stephen Fry and John Sessions as regulars.
It transferred to Channel 4 the same year, with Fry appearing only occasionally, but the likes of Sandi Toksvig, Tony Slattery, Caroline Quentin and Jim Sweeney became regulars before the show ended in 1998.
The format then transferred almost identically to the ABC channel in America, along with several of the core cast such as Proops and Mochrie, running until 2007 with comedian Drew Carey as host. After spawning many international versions, it returned to American screens last year with actress Aisha Tyler in the host's chair.
'I don't want to name names' says Anderson. 'But I've bumped into three people who did the show on telly and they've been quite positive. Whether that turns into them actually appearing, we'll have to see. But I've been pleased with the response so far. Anyone you can think of who has been in the show could be turning up.'
The only original participant who certainly won't be appearing is Ryan Stiles. Despite touring the improv show Whose Live Anyway? around North America with Proops and Mochrie, the American has a fear of flying.
Anderson, who usually presents an edition of Radio 4's Loose Ends from the Fringe, originally performed at the festival in the late 1970s with his contemporaries Griff Rhys Jones, Rory McGrath and Jimmy Mulville as part of the Cambridge Footlights. The first ever stand-up to take the stage at the London Comedy Store, following compere Alexei Sayle, his last performance at the Fringe was in 2001 with his chat show, Clive Anderson's Fringe – Where Is It?
'I'm very enthusiastic about the whole thing', he says of Whose Live? '[But] if you ask me again ten minutes before we start, I'll be saying: "Why in the hell have I agreed to do this, it's going to be a disaster!"'
Brett Vincent of Get Comedy told Chortle: 'I have 14,000 [tickets] and I need to sell 12,000 just to break even. It's mental!'
Anderson adds: 'We'll try to stick to having different games and different things to do, which won't be quite as fast [as the TV version]. You have to do things very quickly on television as it's all edited down. But I think we'll still zap through it all as fast as possible on stage.
'I've got to make a few allowances, to maybe play some longer ones to enjoy the time we've got. And some games work better on television than they do in a stage show.'
He jokes that with the advancing years of the returning players, his favourite game of Stand, Sit, Bend will need to become 'Sit, Lie Down and Moan About The Weather'. And he confirms the widely held assumption that the improvisers dislike the musical games, especially the Hoedown.
'Josie's a proper singer, so she likes it' he ventures. 'But Stephen Fry hated the musical ones. And even Colin, who used to get big laughs out of not being able to do them, he really despised them, it's the relentlessness of the rhythm, the only way you can break it up is to destroy the whole thing... make a joke of it going wrong.
'Because it was recorded, you could have another go at it. But you lost credibility with the studio audience if you did that too often.'
Anderson confirms that he's looking forward to verbally jousting with Proops once more.
'Oh yes, I'm going to have to work up some animosity' he says. 'Greg's a very clever guy, I enjoy that he's read every book, seen every film, and has an opinion on every subject. Whenever I would say anything even vaguely teasing of America, he'd zap in with something and I couldn't stop myself from zapping back. He seems as sharp as ever, so I'll have to sharpen myself up to give him a hard time'.
He hasn't seen the new US series with Tyler, star of the animated sitcom Archer. But having caught a trailer, he feels the new host is 'unforgivably beautiful, a break with tradition if I maybe be disrespectful to Drew and myself. We were available for jokes about ourselves, so I don't know how they cope with having an attractive hostess.'
The broadcast rights to Whose Line? belong to Angst Productions, the company set up by the show's creator Dan Patterson, which also makes Mock The Week and Room 101. Angst have confirmed that there are no current plans for a British broadcaster to air the revived US shows.
Patterson briefly revived the spirit of Whose Line? on British television with a series of the improvisation show Fast and Loose on BBC Two in 2011. Featuring a new generation of improvisers such as Greg Davies, Humphrey Ker, Pippa Evans and Laura Solon, some of the show's games subsequently reappeared in the revived US Whose Line?
There are millions of YouTube views of the original UK episodes. But even if the live shows are a success, Anderson admits that he'd be 'slightly surprised' if a new Whose Line? returned to British screens.
'It really hadn't crossed my mind that this could be a mechanism for getting it back on television' he says.
'When Dan went off to America, Channel 4 immediately lost interest in making it because we'd been using a lot of American performers who then went and performed over there. And the economics were that they could buy the American one ten times cheaper than making new British ones.'
- By Jay Richardson
Published: 11 May 2014
Recent News
What do you think?