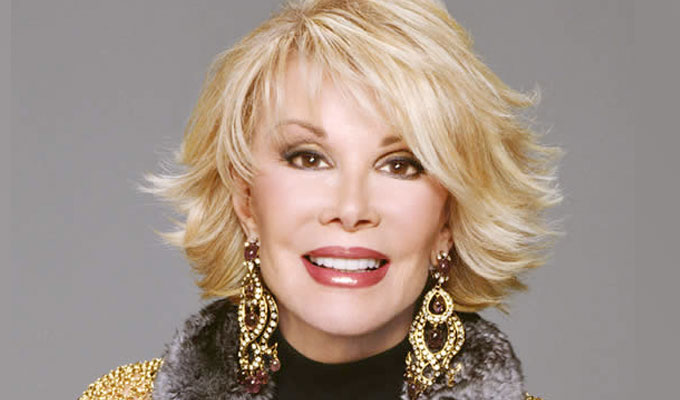 'It's just a stupid joke'
Joan Rivers is resisting calls to apologise for a joke she made about women held captive and abused for years in Cleveland.
Lawyers acting for two victims of Ariel Castro have asked the comedian to take back remarks she made on TV that alluded to their clients' near decade-long ordeal, in which they were repeatedly raped and beaten.
Talking on NBC's Today Show about living arrangements at her daughter Melissa's house, 80-year-old Rivers joked: 'Those women in the basement in Cleveland had more space.'
The remark prompted a chorus of outrage, including the demand from attorneys James Wooley and Heather Kimmel, who are acting for victims Gina DeJesus and Amanda Berry.
In a statement, they said: 'We understand that Ms Rivers is a comedienne; however, the idea that a celebrity would say something this hurtful, on national television, no less, is beyond shocking and disappointing.
'Our clients are strong, private women who have endured unwanted and often painful media attention for quite some time. They now have to endure this, which is a new low, and we believe a sincere apology is warranted.'
However, Rivers has been unrepentant, telling celebrity gossip website TMZ: 'They got to live rent free for more than a decade.... One of them has a book deal.
'Neither are in a psych ward. They're OK. I bet you within three years one of them will be on Dancing with the Stars.'
And she told Cleveland newspaper The Plain Dealer: 'I know what those girls went through. It was a little, stupid joke. There is nothing to apologise for. I made a joke. That's what I do. Calm down.'
Berry, DeJesus and third victim Michelle Knight – whose lawyers have not commented on Rivers' joke – were kidnapped by Castro between 2002 and 2004. They were held in his basement until May last year, when Berry escaped with her six-year-old daughter and contacted police.
Castro was sentenced to life after pleading guilty to 937 criminal counts of rape, kidnapping, and aggravated murder (for intentional induction of miscarriages) but one month into his sentence he hung himself with bedsheets in his prison cell.
Published: 25 Apr 2014
What do you think?