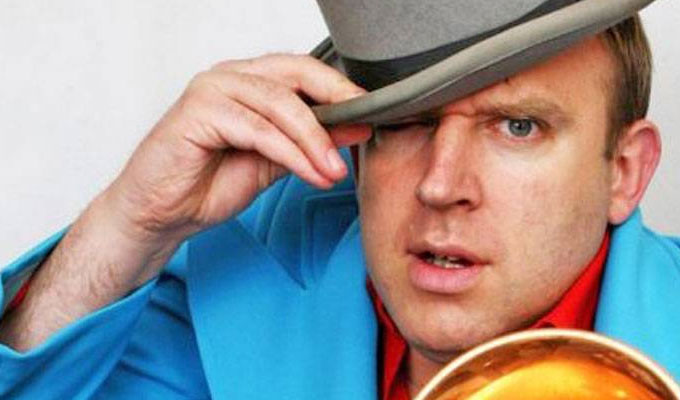 Tim Vine retakes 'most jokes in an hour' record
Tim Vine has regained the record for the most number of jokes told in an hour – without doing a thing.
Guinness World Record officials have stripped former holder Lehmo of the title, and reverted the official record to Vine.
An official spokesman said that the Australian comic – real name Anthony Lehmann – had breached the guidelines. However, he declined to answer several queries from Chortle asking what those guidelines are.
No one from Guinness World Records told Vine that he had regained the record; and both Lehmo's website and the publicity blurb for his current Melbourne International Comedy Festival boast that he holds the honour.
Possible rules are that the jokes must get a laugh, or that they must be memorised, not read from cards, but this is guesswork since Guinness have not elaborated.
The spokesman said only: 'Anthony "Lehmo" Lehmann briefly held the Guinness World Records title for the most jokes told in one hour however, after a breach in the guidelines, was disqualified as the current record holder. We then re-awarded Tim Vine with the record and is still the current record holder to date.'
Vine set his record of 499 on October 7, 2004, at Soho Theatre in London, beating the previous record of 362.
Lehmo took the record the following year, with 549 gags in an hour. It is not known when he was stripped of the honour, but it is thought to be recently, despite Guinness's insistence that he held the record only 'briefly'. His representative has also not responded to requests for comment.
Last month, Scottish actuary Donald MacLeod claimed a new world record of 580 jokes an hour, but this has not been verified by Guinness – and it's not known if he fell foul of the same rules as Lehmo.
However, Vine was delighted to hear the record is back with him. On hearing the news he said: 'I'm going to crack open some champagne. Actually that's a bit dangerous. Perhaps I'll just remove the cork.'
And his agent Tim Payne said: 'We would love to know if Tim was ever going to be officially informed that he still had the record. It would be useful for all concerned to know what the criteria is to determine exactly what qualifies as a record.'
Published: 3 Apr 2014
What do you think?