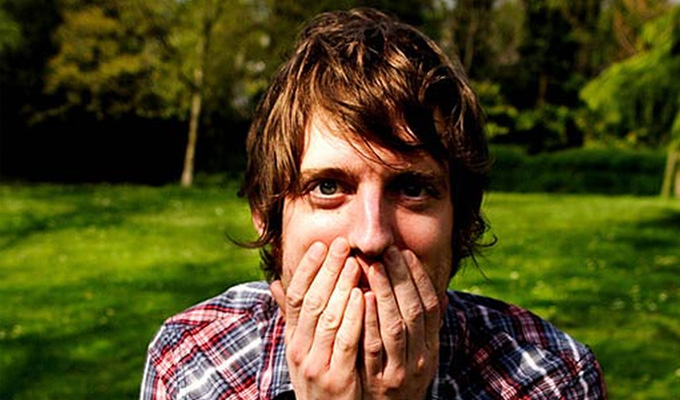 Elis James to star in BBC Three prison comedy
The BBC is to make a comedy series set in a Young Offenders' Institution, which will give Elis James his first acting break.
The Welsh stand-up plays one of the leads, Luke, in the six-part BBC Three series 600 Days, and is 'absolutely fantastic' in the role, according to co-writer Adam Kay.
His character is locked up with his girlfriend's brother, Jason, played by Kadiff Kirwan, a TV newcomer who recently appeared in the National Theatre production Home.
Also appearing as prison officers are circuit favourite Cariad Lloyd and Ricky Champ, who played Paul in Him and Her. Jamal Hadjkura from Grandma's House and Theo Barklem-Biggs, who was in The Inbetweeners movie, are among the fellow inmates.
The series, which had been called Crims while it was in development, will air on BBC Three later this year – before the channel makes the move online.
Three of the six episodes have already been filmed, with work due to start on the rest soon. 'That was quite an enjoyable way to write,' says Kay, who is probably best known for his musical comedy under the Amateur Transplants name. 'Doing six in one go is unimaginably awful, but just three is more pleasance.
He accepts comparisons with Porridge are inevitable, but says: 'It's hopefully realistic about what a Young Offenders' Institution might be like – but hopefully it's funny too. Basically the two leads are ill-suited to life in prison, but for different reasons.
'Researching the show, I've been inside some Young Offenders' Institutions and spoke to people involved in rehabilitation. I did that just before filling in my tax return – and it's the most honest return I've ever completed.
'It is so depressing inside, with cells barely bigger than a bed.. People complain about light sentences of three months, for example, but you wouldn't want to spend a night there. But we've not tried to make any socio-political points. However comedy does come out of jeopardy and we've tried to show some vaguely real threats, but through the prism of comedy.'
Kay co-wrote the show with Dan Swimer, who previously co-wrote Grandma's House with Simon Amstell; while Jeremy Dyson from the League Of Gentlemen was script editor.
BBC Three controller Zai Bennett ordered the series after a read-through. 'It was blow-you-out-of-the-water good – an instant commission there and then,' he said. 'Ellis and Kadiff 's chemistry was outstanding.'
The show is being made in-house at the BBC, produced by James Farrell, with Pete Thornton the executive in charge.
600 Days – named after the sentence the lead characters receive – is BBC Three's second comedy set behind bars, following Sharon Horgan and Holly Walsh's Dead Boss, which is currently being remake for American audiences.
Published: 20 Mar 2014
What do you think?