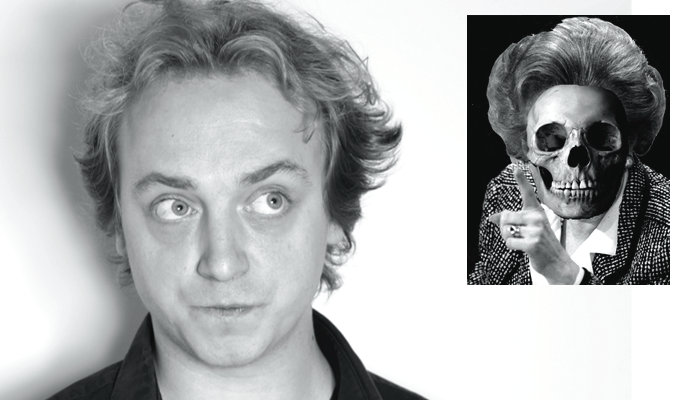 Speaking ill of the dead...
Stand-up Nathaniel Tapley is to mark the first anniversary of Margaret Thatcher's death with a comically disrespectful seance to raise her spirit from beyond the grave.
The character comedian admits his bad-taste show is 'exploitation of the death of a lonely, old woman for commercial gain' – but added: 'It's what she would have wanted.'
He will be performing the Thatcher Seance in character as psychic Melmoth Darkleigh, also known as The Mind F*cker, and is promoting the show with a morbid image of a skull looking looking like the former Prime Minister.
But he says he is not worried about causing offence by mocking the recently dead 'To those who think that there are some times and places where you should be safe from attack, I'd answer: tell that to the crew of the Belgrano.
'And for those who are worried that I might be disturbing her eternal rest, I doubt it. For that, she'd need a soul...'
Tapley has written for BBC Three's The Revolution Will Be Televised and Radio 4's The News Quiz and also performs in the guise as spoof Tory politician Sir Ian Bowler. Darkleigh is a newer character, which he developed for a podcast and launched live last Halloween.
He said work on The Thatcher Seance show was still in progress, bur promised: 'There will be a gigantic ouija board to answer the question Belgra-yes? or Belgra-no? Milk will vanish in front of the audience's eyes. Mrs Thatcher will pass on messages to the audience's deceased pets. And we will discover the true circumstances of her death.'
The Thatcher Seance takes place at London's Leicester Square on April 8 – the first anniversary of her death – and the following night.
Published: 19 Feb 2014
What do you think?