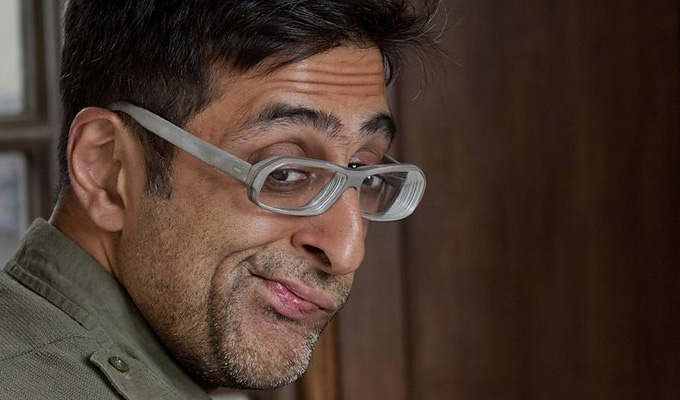 Sanjeev Kohli takes on Scottish independence
Still Game star Sanjeev Kohli is to front a Weekly Wipe-style guide to Scottish independence.
But he also revealed that his hopes for a TV version of his Radio 4 newspaper based sitcom Fags, Mags and Bags have taken a blow with today's news that BBC One is commissioning a full series of Still Open All Hours.
Kohli's next TV project will be presenting the show Blethering Referendum on BBC One Scotland on May 5 and 6 – a show that will mixes straight-to-camera monologue and sketches.
He'll be joined by stand-up Michael Redmond - who will discuss the Irish experience of separation – as well as hip-hop artist Stanley Odd, who will rap about 'divorcing' the rest of the UK, and various academics explaining the ramifications of the vote on September 18.
Kohli promises that the 'Charlie Brooker-esque' show will 'ask the questions that people are too embarrassed to ask for fear of looking thick. Will we need passports? Is there going to be border control?'
Aspects of the debate he'll be 'trying to extract comedy from' will include discussing the Barnett Formula on devolved public expenditure in a hair salon, finding out how many people in West Lothian understand the West Lothian Question and wondering what might happen to the Queen?
'Which should be funny or just disturbing, a 6ft 1in Asian man dressed as Liz Windsor, doing the voice and everything,' he says.
The two 30-minute episodes will be 'edutainment' he adds. 'When I think of the show, I think of the 16 and 17-year-olds who aren't fully engaged in the debate yet. Because there's a lot to take in. Even me, as a 42-year-old man, I don't understand 90 per cent of the issues. Hopefully it'll be funny but people will learn something too.'
It seems unlikely that Blethering Referendum show will air south of the Borders because for a network broadcast 'they would have got Kevin Bridges instead,' Kohli says.
'Put it this way, it would be a nice surprise. We deliberately loaded it with millions of Scottish references that maybe only Scots will get. It's very Tunnocks-heavy.
Rory Bremner last year presented a BBC Two Scotland documentary, Rory Goes To Holyrood, about his preparations for his first live performances addressing Scottish independence – and the impressionist is also fronting a show at next month's Glasgow Comedy Festival about the topic.
Kohli admits that he doesn't yet know how he'll vote personally and that the topic of independence is a sensitive one.
'The problem is that even if you say you're undecided you get slagged for it,' he reflects. 'To even suggest that you might have doubts … my doubts about an independent Scotland are the practicalities of it.
'I like the idea but I just worry whether it's going to work. You voice that and my God! The opprobrium you come up against. But with the best will in the world, no-one knows how much oil is going to be worth in five years time. My position in presenting this is that I'm dithering. And swithering and blethering.'
However, the failure of the British Comedy Awards to recognise Scottish-made shows might sway him.
'Watching the Comedy Awards at the arse end of last year and Limmy and Burnistoun not even being mentioned in passing?' he says. 'I kind of think maybe we do need an independent Scotland because those two shows and Gary: Tank Commander have been so badly treated.'
Technically, only Limmy's Show of the three could have qualified for recognition at last month's awards. But Scottish, Welsh, and Northern Irish productions have long been conspicuous by their absence at the event.
'You know when you see Limmy doing stuff with Charlie Brooker now, where he belongs, on the [UK-wide] network? Why does it take Charlie Brooker to put him there?' Kohli fumes. 'It should have been the fucking network that did it. And that really irks me.'
As he prepares to return to the role of Still Game's shopkeeper Navid for 21 shows at the 13,000-capacity Hydro in Glasgow from September, Kohli raises the possibility of Fags, Mags and Bags also being adapted for the stage.
A live recording of the show, co-written by and co-starring Donald McLeary, took place at Glasgow's Oran Mor venue last April as a taster for TV commissioners, following five series and a Sony Award on Radio 4. But he reckons that the order for a full series of Still Open All Hours has scuppered those hopes.
'That was a kicker' he admits. 'We said "There hasn't been a shop sitcom since Open All Hours, we'll do one". And now they've got a series. So we suspect that they're not going to take another shop sitcom, despite the fact that it's a very different beast, anyone can see that.
'I would love to get it on the telly, because as beautiful as radio is, you just don't get the same audiences. And genuinely, I think people need to see the shop, the wall of crisps and the chocolate stanchion.'
He was, he reflects, 'bowled over' by the live audience reception. 'I've always been wary of live performance. And the nature of the show is very wordy. We were very keen from the beginning for it to be a juggernaut of niche observations. But my God, it worked really well.
'We're thinking that we'll keep it alive, maybe even tour it. If Count Arthur Strong has taught us anything, if you stay in the game long enough, maybe you'll get your shot. He got his shot and I'm so chuffed that he did. You look at things like Bleak Expectations, they got a [television] pilot. So its worth staying in the game.'
Meanwhile, McLeary has already landed his own pilot for BBC Scotland.
Jimmy Chisholm and David Ireland will star as search and rescue volunteers in Mountain Men, which will be shot in front of a live audience at the BBC's Pacific Quay studios in Glasgow on March 3.
Described as a 'hugely energetic studio sitcom', the in-house BBC production stars Chisholm as 'shambolic old rescue hand' Jimmy, who takes it upon himself to teach naïve and enthusiastic dog handler Bill [Ireland] the 'way of the hills'. However, the team are soon called out for a real emergency, where things go from bad to worse.
McLeary told Chortle: 'I'd worked with Jimmy on The Wicker Man Musical [co-written with Hemphill that premiered at last summer's Edinburgh Fringe] and he was fantastic in that, so I had no hesitation about writing a part for him in this.'
Further cast details have yet to be confirmed.
The pilot follows a performance of the script at the Citizens Theatre in March last year for a BBC Scotland Comedy Showcase at the Glasgow Comedy Festival.
- by Jay Richardson
Published: 30 Jan 2014
What do you think?