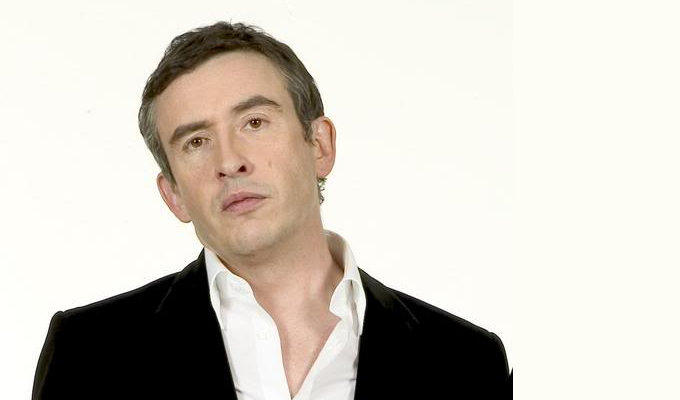 Coogan: Comedy has dumbed down
Steve Coogan has bemoaned modern entertainment's descent into divisive and 'simplistic' treatment of contentious issues and pledged to 'keep using comedy to sugar the pill of things that are a bit difficult'.
He said entertainment had regressed since the 1970s in tackling of subjects such as religion, faith and the brutality of war. And he declared that 'talking about difficult subjects doesn't have to be uncomfortable, it can be funny'.
Reflecting on his last film, Philomena, which he co-wrote and starred in alongside Judy Dench as an Irishwoman searching for her son 50 years after giving him up for adoption, he maintained that 'cinema is still really powerful, you can make people make subjects more accessible than you can in a direct argument because you can touch people.'
His comments came in a in a question and answer session with Rob Brydon and director Michael Winterbottom at the Sundance Film Festival in Utahto publicise The Trip 2, in which the two comic actors make a gastronomic tour of Italy with a nod to the travels of Byron and Shelley.
During the conversation, Coogan pointed out that M*A*S*H 'would ask difficult questions within the comedy', adding that that 'hardly happens these days – if you're introspective about war in any way, that's somehow slightly unpatriotic. That's really unhealthy I think.
'Entertainment in the past, certainly in the 1970s, there was more risk-taking and it was encouraged, that kind of questioning, you could have a conversation where you asked questions, difficult questions, and you had a discussion and it didn't have to be like this polarised thing where if you're not with them, you're the enemy … there was more nuanced stuff.'
He recalled an episode of the Korean War sitcom featuring an incident of friendly fire that made 'jokes about it, the dirty side of war. You hardly see that any more. I think people need to learn how things used to be made'.
Paying tribute to Winterbottom, Coogan explained that working with the director on films such as 24 Hour Party People and A Cock and Bull Story had 'opened up my eyes, it was like a revelation.
'When you work in comedy it's about controlling every moment and trying to really craft it. When I started working with Michael I got comfortable with not being entirely sure what I'm doing … so there'd be some comedy and some pathos. That whetted my appetite for thinking that you could do things with depth where comedy is part of a bigger picture'.
The comedy in Philomena 'was a way of making it enjoyable, so it's not a film that wears its worthiness on its sleeve and says "this is really important".
'Once you get in tune with comedy, you know where you can find comedy in the scene and that's really good, it takes the curse off, especially, sometimes, things can look self-important and if you puncture it with a joke, then that's really good.
'[But] I wanted to try to be sincere and see how it felt to not go for the joke and be authentic and not be ironic all the time because irony's really satisfying but ultimately it's limiting because it's like a parachute, it's like a coward's way out. How does it feel when you just say something sincere and then don't undercut it with a joke? Because that's really hard to do.'
Brydon suggested that while their instincts had been to naturally seek out 'comic beats and rhythms', when editing The Trip and its sequel, Winterbottom went for a more 'interesting' cut. It wasn't 'just us riffing stuff' in Coogan's estimation, 'he makes it have some sort of resonance that goes beyond silly voices.'
Suggesting that there had been discussions about making American and German versions of The Trip, the director explained that the films had been partly inspired by making A Cock and Bull Story, when 'Steve and Rob did some stuff that was completely improvised. And to be honest, that was quite similar to what's in this as well, that relationship and that kind of humour … the funniest bits for me were the bits where they were just talking to each other, making stuff up and it seemed like it would be fun to do a whole film like that.'
Coogan confessed that neither he nor Brydon wanted to be involved with The Trip initially, and had to be persuaded by Winterbottom.
He said he come to 'hate doing impersonations' 20 years ago in a bid to be taken seriously, but said now the sequences in which he and Brydon indulge themselves in their celebrity take-offs have become 'a guilty pleasure'.
'Inherent' laziness meant Brydon hadn't bothered to learn any new voices for the sequel. But he expressed delight at the fact that both Michael Caine and Anthony Hopkins have reportedly enjoyed their 'affectionate' caricatures, even as Coogan tempered that 'we're not very nice to [Batman stars] Christian Bale and Tom Hardy'.
The series directly confronts its repetition of the first, set in the Lake District, because as Coogan put it, 'if there's an elephant in the room, [Michael] invites it into the room and pats it on the back'.
Besides, since the original in 2010, the pair's dynamic 'has moved on because of the ageing' said Brydon. 'We're both 48 and it's an age where you spend a lot of your time as a man saying to other friends "do you notice how you do this now? Are you finding that you're doing such and such?" Because you think it's just you and it's the early signs of something sinister.'
Coogan concurred: 'As we all get older, self-deprecating humour tends to be the way forward really. If you can't laugh at the inevitability of mortality, then there's not a lot else you can do. I think when you're younger you're less inclined to laugh at yourself because you want people to respect you, don't you? Then when you get older, you don't really care anymore.'
-by Jay Richardson
Published: 22 Jan 2014
What do you think?