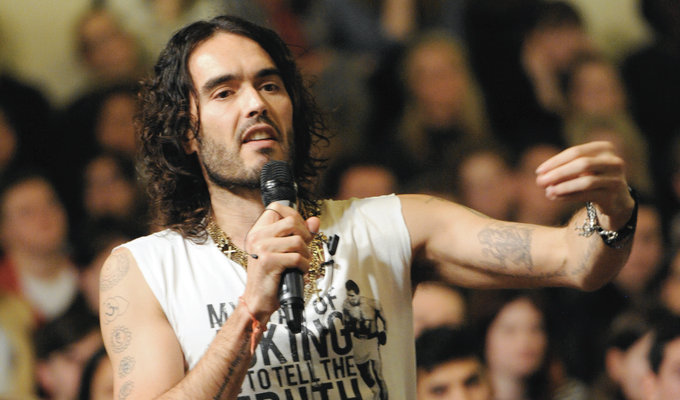 'Shut up you Harry Potter poofs'
Russell Brand demanded a revolution of civil disobedience when he addressed the Cambridge Union debating society.
'Politics should be a system that helps everybody,' he told an audience of about students. 'Currently it's a meaningless temporary reality that is completely pointless."
Speaking of the political class – which many Union members will be hoping to join – the comedian said: 'They don't define the paradigm – we define the paradigm. We're running things now. Don't trust them, don't vote for them, don't play along. Complete non-compliance would change the system.
'Voting is an act of compliance. I'm not complying with you! Give us something to vote for and I'll vote for it. Just don't vote within the tiny circumference of nonsense that we're offered. We oughtn't be satisfied with some diluted version of democracy. There needs to be a defiant stand against the corporates that are running our planet.'
In comments that echo those he gave to Newsnight last year, Brand added: 'Revolution is coming. It's happening instantaneously. It's happening now! It has to be peaceful – occasionally I get into all that violent shit and the romanticisation of revolution because I hate the power structure but that just wouldn't work.'
More than 1,300 people tried to get into the event, with hundreds turned away at the door hours before it was due to start.
Brand also talked about his relationship with drugs, saying that: ;I think that drugs should be made completely legal and regulated. I think that people's freedoms are their own business.
'When I took drugs I felt lonely, alienated and disconnected. I felt that this culture isn't serving me. When I took heroin for the first time it was beautiful. It was a personal problem - I couldn't cope with being alive I needed to take drugs. Drug addiction appeals to a pre-existing paradigm and the criminalisation of addicts is just alienating those who need help."
Brand also drew laughter from the audience when under questioning, saying: 'Shut up you Harry Potter poofs!'
He also asserted that: 'Fame is currently a blinding a white light to distract us. I wanted to get famous for self-fulfilment, but I found it spiritually vacuous. Hollywood is ultimately a vacuous pointless illusion designed to keep us passive, obedient, docile prisoners. Fame fulfils a social role – it's a way of hypnotising a population.'
Brand wore a T-shirt emblazoned with the quotation: 'My way of joking is to tell the truth', attributed to Muhammad Ali – although it was actually coined by George Bernard Shaw in his 1907 play, John Bull's Other Island.
Amber Cowburn, a second-year student at Emmanuel College, said of Brand: 'He got an amazing reception at the Union. He's such a showman and talks with such passion about his views. It was incredibly exciting to watch."
Imogen Schön, the President of the Cambridge Union Society, said afterwards: "The event was a huge success and we're delighted that Russell Brand was able to come. He entertained and enthralled a capacity audience of Cambridge students at the Union tonight and we absolutely loved hearing his plans for the coming revolution.'
Published: 14 Jan 2014
Recent News
What do you think?