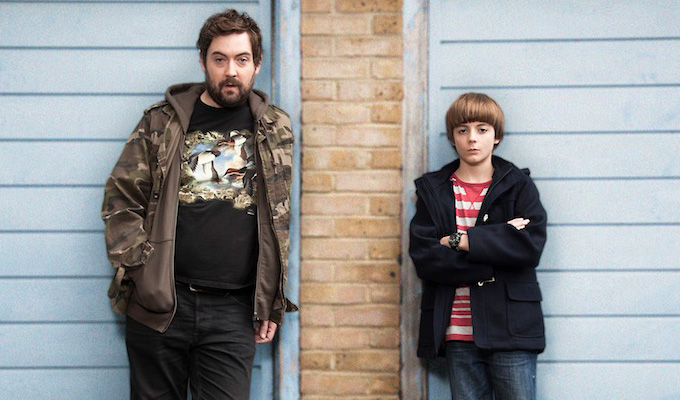 Meet your Uncle Nick....
The comedy week ahead...
Today
LIVE IN LONDON: Comics are holding a benefit in honour of Ed Balls, the long-serving compere of the new act night at The Bedford in Balham, South London. Paul Sinha and Joe Wilkinson are among the acts taking part in the Deceased Comedian's Ball in honour of Balls – real name Ed Rikard Bell – who died of a brain tumour last year aged just 46. Proceeds of the gig, at The Bedford, are going to the Neurosciences Research Foundation.
RADIO: Stephen Fry and Daniel Rigby star in a new series of one of the most unusual, but charming comedies, on radio, Warhorses Of Letters. If you've not heard it, the show is based on the correspondence of two horses in love with each other but divided by the Napoleonic War - though the show, surprisingly, makes more sense than that description. Radio 4, 7.15pm
Monday January 13
TV: Aggressively self-pitying stand-up Nick Helm makes his much-anticipated sitcom debut in Uncle on BBC Three at 10pm tonight. He plays a suicidal out-of work musician who forges an unlikely alliance with his 12-year-old nephew Errol after being morally blackmailed into looking after him by his chaotic sister Sam…
TV: A smart import for E4, Brooklyn Nine Nine is a gag-packed take on the police procedural, with Andy Samberg (last seen opposite Greg Davies in Cuckoo) as a wise-cracking, immature, but brilliant detective, surrounded by a cast of equally quirky characters in the eponymous NYPD district. It's silly, but endearing, and starts at 9pm.
LIVE IN LONDON: There's a very impressive bill at Happy Mondays at the Amersham Arms in New Cross tonight. The big draw is headliner Milton Jones, but alongside his masterfully quirky one-liners come top-rate archness from Tom Allen and the dry wit of Nish Kumar.
LIVE IN LONDON: A benefit for Mind at the Comedy Store has a robust line-up of circuit comics. including John Moloney, Scott Capurro, Jarred Christmas and MC Michael Legge.
LIVE IN LONDON: You could do a lot worse than making a double-bill of two acclaimed Edinburgh debuts at the Soho Theatre this week. Liam Williams is downstairs at 7.30pm with his downbeat, elegantly literate monologue onexistential angst. But it's funny too… ( Review. Then rush upstairs for 8.45pm for best newcomer winner John Kearns who has found a way to corral all his eccentric weirdness (he performs in comedy teeth and wig with no real explanation) into a show that's funny and even touching, not just odd for its own sake. Review. Kearns's run actually lasts until the end of the month, so no excuse for Londoners not to see him...
Tuesday January 14
TV: Another eagerly anticipated comedy from the BBC in the form of House Of Fools, Vic Reeves and Bob Mortimer's take on the sitcom. Set in Bob Mortimer's home, the show features stand-up Daniel Simonsen as Bob's Norwegian son; Morgana Robinson as a fantasist neighbour; Matt Berry as a woman-obsessed lothario; and Dan Skinner (the man behind Angelos Epithimiou) as a Geordie ex-con. BBC Two, 10pm.
Wednesday January 15
LIVE IN BROMSGROVE: There's a rewarding theatrically to Sean Hughes's nostalgic monologue Penguins, about the travails of his schooldays, which starts a short national tour at the Artix tonight. Click here for review and full schedule.
LIVE IN GLASGOW: The Wee Man and Ro Campbell came up with a unique concept show at last year's Edinburgh Fringe: Comedian rap battles. Now see stand-ups diss each other mothers as the showdown comes to the Glasgow Stand.
TV: After a six-year absence, the Kumars return to TV, courtesy of Sky 1. To update the spoof chat show, the recession-hit family are now living in a flat in Hounslow, while host Sanjeev is divorced from his wife of nearly two years. Guests on this, the first of six weekly episodes are Daniel Radcliffe, Chevy Chase and Olivia Colman. Sky One, 9pm
Friday January 17
LIVE IN BIRMINGHAM: There's a good bill at the Glee club this weekend, with smart-yet-silly stand-up from Carey Marx, the angst of Josh Howie and rising star Ivo Graham, all expertly compered by the playful Micky D.
SaturdayJanuary 18
LIVE IN DUBLIN: Jason Byrne arses around in his Special Eye show at Vicar Street….
Published: 12 Jan 2014
Recent News
What do you think?