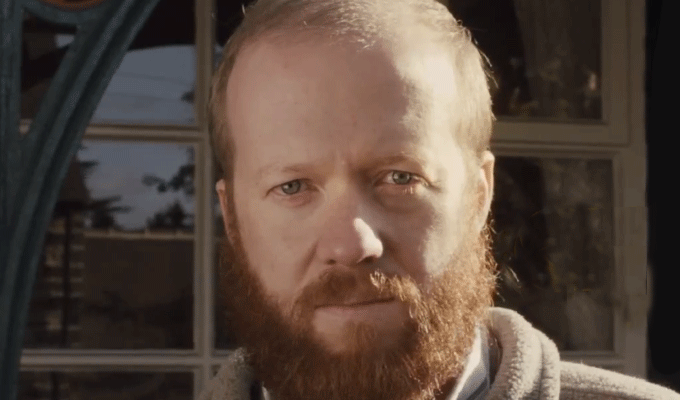 Steve Oram directs his first movie
Sightseers star Steve Oram is to make his directorial debut with a film he likens to Romeo and Juliet meets Planet of the Apes 'in the vein of John Waters'.
With no human dialogue but 'everyone speaking like monkeys', Aaaaaaaah! co-stars The Mighty Boosh's Julian Barratt, Green Wing's Julian Rhind-Tutt and Hannah Hoekstra, star of sexually explicit Dutch arthouse movie Hemel, as well as Oram's long-time comedy partner Tom Meeten.
The low-budget, self-financed feature begins shooting in April and is set in a recognisable South London, except it features 'no speech but lots of inappropriate sex and violence'.
'It's quite rollercoaster,' explains Oram. 'The challenge is to make each scene work in a physical way, which is good fun actually, I had a lot of fun writing it'.
Produced by Sightseers' Andy Stark, the plot follows Oram and Meeten as 'marauding' characters encroaching into hostile territory where they meet Hoekstra, 'hook up with her and start a feud between the two groups'.
Rhind-Tutt plays the girl's angry father while Barratt is 'the ex-alpha male who's been deposed and has been living in the garden. It's pretty silly stuff.'
Sightseers, about a caravanning couple who turn serial killers, was rejected as a script for seven years for being too dark, but ultimately achieved acclaim on the film festival circuit and became a cult favourite on its UK release last year.
Reflecting on the success of the comedy, which he co-wrote and starred in with Alice Lowe, Oram reveals that making it 'really taught me to trust in my instincts as to what's funny and go with my own vision really, and that's ended up in various places, such as doing a film where people don't speak.
'I think there's a market for these left-field ideas that aren't really expressed in mainstream TV comedy, there's not really a lot of darkness. There's the odd exception that comes up, like Hunderby, with a nice edge. But there's room for more, certainly.'
Oram is also currently developing another self-penned film, Sweet Shadow, a 'bigger budget thing' about a 'weird, gentle stalker' with veteran producer Charlie Hanson, whose credits include This Morning With Richard Not Judy, Birds of a Feather, The Harry Hill Show, Garth Merenghi's Darkplace and several of Ricky Gervais and Stephen Merchant's comedies, including Extras, Life's Too Short, Derek and the duo's 2010 movie, Cemetery Junction.
'It's about a deluded dreamer from the Midlands who moves to London and finds it hard to fit in at this shit job he does,' he explains. 'So he starts following people to make friends.
'He goes a bit wrong in the head. He has these fantasies, I suppose it's very influenced by Billy Liar, one of those "people who dream but don't do" kind of films.'
The screenplay also has a role for Barratt 'but it's not finalised yet,' Oram says. 'The script is written and we're basically approaching people for money'.
Before that, Oram will be joining the horror film Altar, which has just begun shooting with Matthew Modine and Olivia Williams and later this year will appear alongside Olivia Colman in as-yet-untitled one-off drama for BBC One directed by Dominic Savage.
He will also be reviving his Club Fantastico nights with Meeten at the Soho Theatre in London this summer, and is planning to collaborate with Lowe again.
'We're doing our own projects for this year' he says. 'But we've had offers to do more things, so it's something we're definitely going to do. It would be fantastic to work with her again.'
– by Jay Richardson
Published: 8 Jan 2014
What do you think?