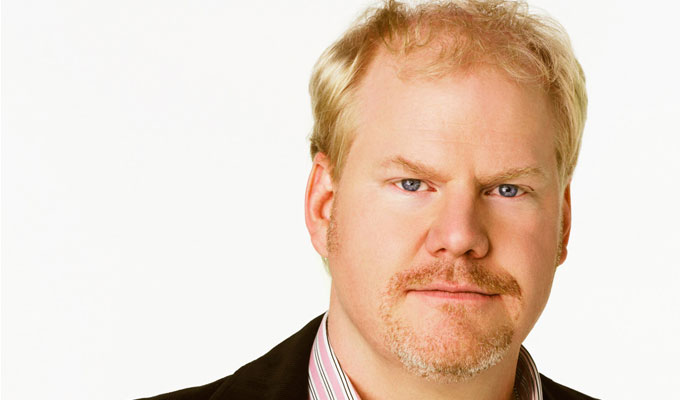 Jim Gaffigan stars in plagiarised movie
A new short film starring American comic Jim Gaffigan has been exposed as a direct rip-off of a comic novella.
Transformers actor Shia LaBeouf won plaudits for his short film HowardCantour.com when it debuted at the Cannes Film Festival last year.
However, now it has been revealed it is a virtual clone of a 2007 comic created by Daniel Clowe called Justin M. Damiano – including chunks of dialogue lifted verbatim.
Both the film and comic begin with the main character narrating: 'A critic is a warrior, and each of us on the battlefield have the means to glorify or demolish (whether a film, a career, or an entire philosophy) by influencing perception in ways that if heartfelt and truthful, can have far-reaching repercussions.'
Even the trailer for the movie, which has Gaffigan's character say: 'Most critics will give any movie three and a half stars if it flatters their self-image. I take it much more seriously' comes from the comic-book.
Both have the same supporting character of a young blonde freelance critic, and they share near identical dialogue throughout multiple scenes.
LaBeouf's plagiarism had escape notice until he posted HowardCantour.com online on Monday.
Clownes told BuzzFeed he had never had contact with the film-maker over the project. 'I was shocked, to say the least, when I saw that he took the script and even many of the visuals from a very personal story I did six or seven years ago and passed it off as his own work,' he said.
In interviews to promote the film, LaBeouf had claimed personal inspiration, saying: 'As I tried to empathize with the sort of man who might earn a living taking potshots at me and the people I've worked with, a small script developed.'
But early this morning, he acknowledged he 'failed to credit' the original work – but insisted he wasn't copying it, merely 'inspired' by it.
He tweeted: 'Copying isn't particularly creative work. Being inspired by someone else's idea to produce something new and different IS creative work.
'In my excitement and naiveté as an amateur filmmaker, I got lost in the creative process and neglected to follow proper accreditation
'I'm embarrassed that I failed to credit @danielclowes for his original graphic novella Justin M. Damiano, which served as my inspiration. I was truly moved by his piece of work & I knew that it would make a poignant & relevant short. I apologize to all who assumed I wrote it.
'I deeply regret the manner in which these events have unfolded and want @danielclowes to know that I have a great respect for his work.'
An hour later he added: 'I fucked up.'
The online version of HowardCantour.com has been hidden behind a password since the plagiarism row blew up, but this is the teaser:
Published: 17 Dec 2013
What do you think?