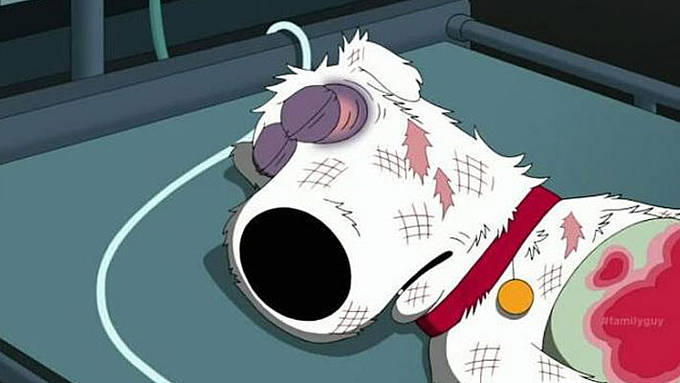 Family Guy's Brian is back from the dead
To the surprise of almost no one, the death of Family Guy dog Brian has been revealed as a hoax.
The character, voiced by series creator Seth MacFarlane, was returned from the dead in the festive episode which aired in the States last night.
Baby Stewie at first begs a shopping-mall Santa to bring his friend back as a Christmas gift.
But although that doesn't work, the show's trusty time machine maguffin comes in to save the day again. Stewie spots a version of himself from the past in the mall and remembers that there is a time machine in his backpack, which he then uses to save Brian from being hit by the car that allegedly killed him in a gruesome hit-and-run two weeks ago.
Stewie explains: 'I couldn't live without you so I came back from the future to save your life.'
Brian replies: 'Thank you for saving my life. A lot of other families would have just gotten another dog and moved on.'
The Griffins had, of course, replaced Brian with a wisecracking pooch called Vinny, who even featured in the opening credits last week. Sopranos actor Tony Sirico, who voices Vinny, has been signed up for three more episodes, so that appears to be a storyline still to be resolved.
Last night, Macfarlane teased fans who had been taken in by the hoax, tweeting: 'I mean, you didn't really think we'd kill off Brian, did you? Jesus, we'd have to be fucking high.
'Oh and hey... thanks for caring so much about the canine Griffin. He is overcome with gratitude.'
But the ploy worked wonders for the animated show's ratings. Last week's episode pulled the highest rating of the current season – almost a million viewers up on usual.
MacFarlane added: 'And thus endeth our warm, fuzzy holiday lesson: Never take those you love for granted, for they can be gone in a flash.'
Here is how Brian was saved:
Published: 16 Dec 2013
What do you think?