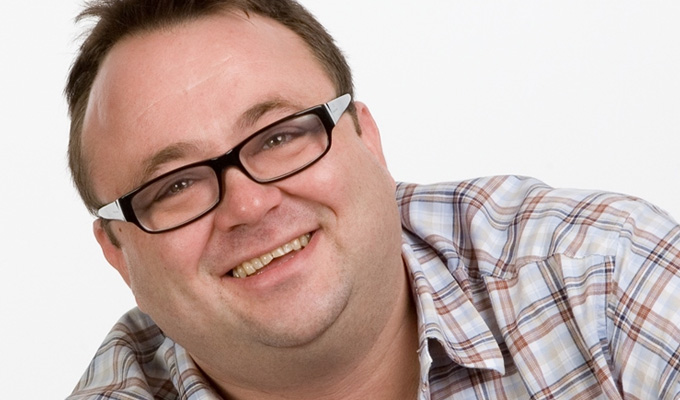 BBC suspends Toby Foster over C-bomb
Stand-up Toby Foster has been suspended from his BBC breakfast radio show for publicly swearing at his boss.
The comic and Phoenix Nights star, who joined BBC Radio Sheffield in 2002, tweeted on Wednesday night that he'd 'Got asked to go for a pint by BBC manager. Got pretty much sacked. Threatened to phone bosses. Cos he's a cunt. Lie in.'
He added: 'Was told by my editor that "one of us will go". After all these years at the Beeb.'
Although Foster subsequently deleted the tweets, he replaced them with one that read: 'Phone ringing like mad. I've spent 11 years talking about S Yorks. If it finishes now, I'll be sad.'
Today, the station announced that the comic is 'currently suspended from his role as Presenter of the Breakfast Show on BBC Radio Sheffield' but could not confirm whether this suspension would be permanent.
A spokeswoman said: 'The BBC does not condone the offensive language used by Toby in his Twitter feed which was directed at a member of BBC staff. Toby has offered a full apology to his colleagues and the public for those comments.'
At the moment, audience tickets are still available for the latest run of his weekly Toby Foster Live-ish shows on the station, starting January 17.
Foster, who also books and comperes the Last Laugh comedy club in Sheffield, was unavailable for comment, beyond describing the incident as merely a case of 'handbags' to Chortle.
His colleague Paul Walker has stood in for him on the breakfast show for the last two mornings.
A campaign with the hashtag #saveourtoby has launched on Twitter and local MPs have added their support.
Chesterfield Labour MP Toby Perkins said: 'I hope BBC Radio Sheffield haven't sacked Toby Foster. I think he's a real asset to the North Derbyshire and South Yorkshire community.'
Michael Dugher, Labour MP for Barnsley East, said: 'I hope this isn't true. Toby Foster is a brilliant, authentic voice for South Yorkshire. Think again, BBC Sheffield.'
Fellow Twitter user Les Fell added: 'He's the only reason I listen to Radio Sheffield. I'll switch over if this is true.'
– by Jay Richardson
Published: 13 Dec 2013
What do you think?