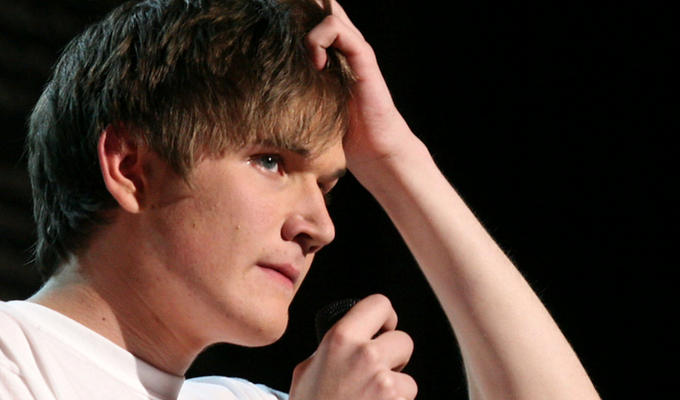 Bo Burnham gives it away...
Bo Burnham is giving away the full-length video of his latest show, What, for free.
The 23-year-old, who shot to fame as a YouTube star, is returning to the channel to distribute the acclaimed show after funding the filming himself.
It will be posted online on December 17, and also made available on Netflix.
Other American comics such as Louis CK and Aziz Ansari have funded their own specials and released them for a modest amount, bypassing the big DVD companies. But Burnham is the first major comedian to release a special for free.
However he may not be the last: Richard Herring is currently filming his own stand-up series at London's Leicester Square Theatre, Meaning Of Life, and has said he is inclined to release the episodes for free.
In his first YouTube posting for three years, Burnham promoted the new release.
'They told me to stop chasing my dreams. I didn't listen,' he said. 'They told me to stop chasing random little kids in the supermarket. I did listen and, sorry, again. I won't do that any more.
'They told me that I shouldn't pay for the filming of my new live comedy special out of my own pocket and post the whole thing for free on my YouTube channel.
'They told me, "Seriously, Bo, is making a vague artistic gesture really worth basically burning money that could feed your future children? Is a small step towards a personal and less profit-driven exchange of ideas worth more to you than them? Than your children? Your sunken-eyed, malnourished space children? This isn't just your money you're throwing away. It's their's too. They will hate you for this. Your children will hate you. Will it really be worth it?"
'In a word "Yes". In a much truer word, "What?"'
He has, however urged fans to buy the iTunes album of the show – also expected out on December 17, priced £7.99, or his new book of Poetry, Egghead.
What was performed at this year's Edinburgh Fringe and bias just finished a short UK tour. Click here for our review of the show from Montreal's Just For Laughs festival earlier in the year.
Published: 6 Dec 2013
Recent News
What do you think?