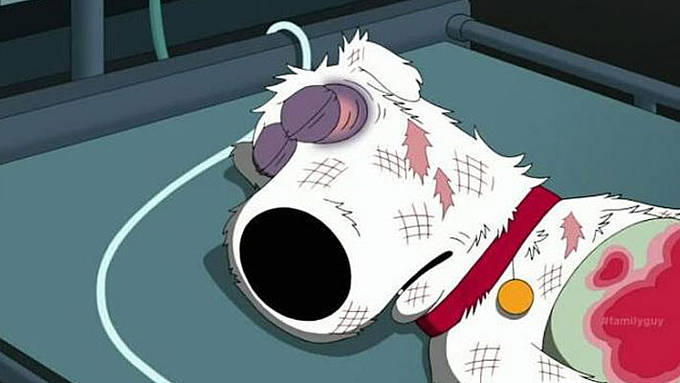 Family Guy kills off Brian
Family Guy has killed off one of its central characters: Brian the dog.
The character, voiced by series creator Seth MacFarlane, was the victim of a hit-and-run driver in the episode Life Of Brian that aired in the States last night.
As he lay dying in hospital, he told the rest of the Griffin clan: 'You've given me a wonderful life, I love you all," he said before flat-lining as his loved ones looked on with tears in their eyes.'
The script then fast-forwarded a month, with the family replacing Brian with a new dog called Vinny, a tough-talking wiseguy voiced by Tony Sirico, who played Paulie in The Sporanos.
Executive producer Steve Callaghan described Brian's death as 'a fun way to shake things up,' after 11 seasons.
'We got very excited about the way this change will affect the family dynamics and the characters,' he added.
However, it's unclear whether the character would really never return again, given that anything is possible in animation.
MacFarlane – who also voices Stewie, Peter and Quagmire – has previously said he fears the show may have passed its sell-by date, telling the Hollywood Reporter: 'Part of me thinks that Family Guy should have already ended. I think seven seasons is about the right lifespan for a TV series'.
After the episode ended, the Fox network aired a short tribute video to the character:

Published: 25 Nov 2013
What do you think?