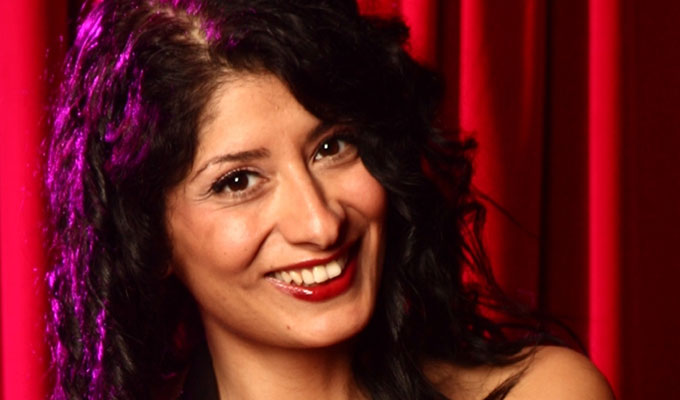 It's been emotional...
Shappi Khorsandi has had an emotional reunion with the teacher who taught her English – after more than 30 years.
The comic was reduced to tears after she discovered that Mrs Gadd, who taught her soon after she arrived in London from Iran without a word of English, was in the audience for her performance at the Chortle Comedy Book Festival last night.
After the gig, she tweeted: 'My favourite teacher turned up at my gig tonight… First time I've reacted to an audience member by hugging them close and weeping. She looked after me when I was a 5 yr old refugee *sniff*'
Khorsandi was brought up in Ealing, where the festival is being held, and wrote about Mrs Gadd in her book A Beginner's Guide To Acting English l, about her experiences as a young refugee.
She described how she and brother Peyvand had special lessons in the corner of Montpelier School's hallway, doing exercises such as saying: 'Wa-wa-wa-wa-wa' as there was no 'W' sound in Farsi.
'When Mrs Gadd made this sound she got deep creases all around her mouth so she looked even older,' Khorsandi wrote. 'She was the wrinkliest person I had ever seen.'
At their tearful reunion in Ealing Town Hall last night, Mrs Gadd took issue with Khorsandi's description – protesting that she would only have been around 40 at the time she taught Shappi. The same age the comedian is now.
Published: 23 Nov 2013
Recent News
What do you think?