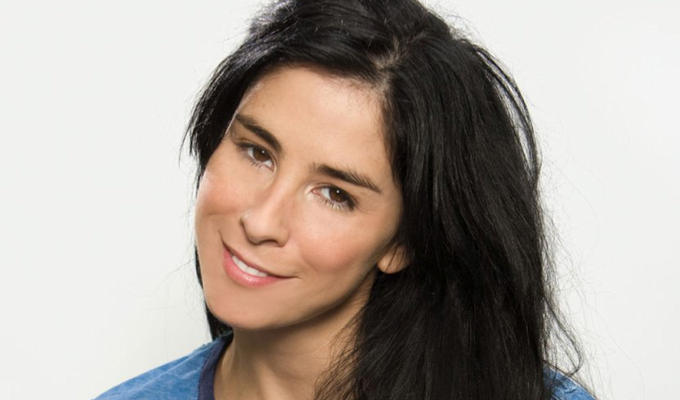 'Vaginas scare people'
• 'I think vaginas really, really scare people.' Sarah Silverman.
• Adam Hills took his whole audience bowling after a gig in Barnstaple this week. Although they originally thought his offer of some post-show relaxation was a joke, he gradually convinced them and ended up with about 300 of his newest friends at the local Lets Go! alley – with all the games on him. He said: 'By this point I had done 70 shows and wanted to do something different. I have always loved the idea of doing something for the audience.'
•
Think monogrammed pool tables are the preserve of extravagant rap stars? Think again! Chris Ramsay has taken delivery of this beauty, with a personalised 'R' in the Superman font emblazoned on its blue baize. It's the same logo he's worn on promotional T-shirts in the past.
• Keith Lemon creator Leigh Francis said he might take a shit in the homes of some of the celebrities houses he visits for the Christmas special of Through The Keyhole. Well, what he actually said was: 'Whether they've been naughty or nice I'm sure I'll be leaving summat under't tree. Well if they've been naughty I'll leave it in their toilet and it will resemble a Christmas pud.' What a delightful man!
• Micky Flanagan says he almost didn't do his first ever gig – after the curtains caught fire at the back of the stage of the pub in West London. He said: 'I was convinced the show wouldn't go ahead,' he says. 'But they said we were all right to go back in and my heart sank.'
• Here are some of the Set List comedians talking about – and dealing with – hecklers:

• Shouted out at a Marcel Lucont gig in Croydon: 'My mum is the blonde in the audience tonight. Will you go out with her? I need help with my French homework.'
•
The octagonal building used for the Sky One sitcom The Cafe has been dismantled and is now sitting in storage, flat-packed and waiting to go into a new home. It was built on the Weston-super-Mare seafront specially for the Ralf Little comedy, and taken down once filming was over. Now a community group in Taunton has been given it – for free – as long as they would take it off producers hands. It's now in a yard, waiting to go into local park if campaigners can raise enough money to get it up and running.
• The Amazon page for The Tim Vine Bumper Book Of Silliness says it is written in 'Language: Unknown'
• No massive surprise, but Jimmy Carr says his act has to be vetted before he appears at the Royal Variety Show. 'There was a long telephone conversation with them saying, "You can't say that," "You obviously can't say that," and, "That's the worse thing in the world",' he tells Graham Norton on his chat show tonight. 'Eventually we found a few jokes I can do. Prince Charles can take a joke I think.'
• Tweets of the week
David Stokes(@scottywrotem): Mark Ruffalo's real name is Mark Buffalo. The mistake came when his dad, James Buffalo, did a Scooby Doo impression at the registry office.
Dan Atkinson (@danatkinson): Don't judge an Ebook by its JPEG.
Paul Bassett Davies (@thewritertype): If kids ask why a dog is wearing a lampshade around its neck, don't tell them that if they pull its tail its nose will light up. DON'T.
Published: 22 Nov 2013
Recent News
What do you think?