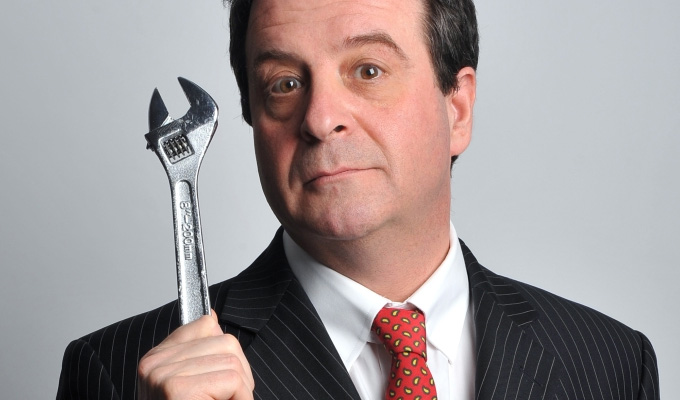 Mark Thomas takes on the press barons
MARK THOMAS has written a short play about a right-wing newspaper owner who 'finds himself in an uncompromising position when some disgruntled readers decide to pay him a visit'. Church Forced To Put Up Gates After Font Is Used As Wash Basin By Migrants – named after a genuine Daily Express headline from July – is one of a number of pieces that form the Theatre Uncut season, which starts at London's Young Vic theatre tonight. It opens with the entirely fictional owner insisting that 'the adult entertainment titles are no longer part of the company', echoing Express owner Richard Desmond's disposal of his former porn empire. A video of Thomas's play is also online:

KEITH LEMON is to make a Through The Keyhole Christmas special. ITV has commissioned the hour-long show after the six-part revival peaked at 6.1million viewers earlier this year.
MICHAEL McINTYRE is to hold another Christmas fundraiser at the Hammersmith Apollo. Guests for the benefit for Kids Company on December 17 include Alan Carr, John Bishop, Russell Howard and Rob Brydon – and tickets, priced £50 and £60, go on sale at 10am this Friday. It's the fourth time McIntyre has hosted such a benefit.
MICKY FLANAGAN has said that Channel 4 panel show Was It Something I Said?, of which he is a team captain, will 'probably' be returning for a second series. David Mitchell hosts the show, with Richard Ayoade the other team captain.
MOVIE sequel Dumb And Dumber To is due out in the States on November 14, 2014, just ahead of the 20-year anniversary of the original, it has been announced.
Published: 19 Nov 2013
What do you think?