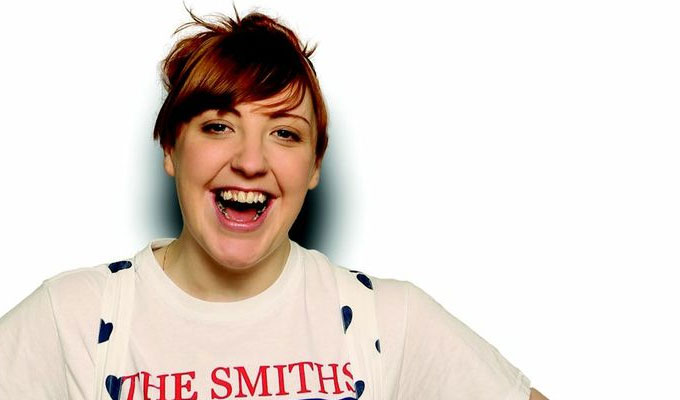 Strippers at comedy shows? Get 'em off!
A comedy club which puts stand-up and strippers on the same stage – and books only male comedians – has prompted outrage on the circuit.
DSM Promotions, which runs the Black Cat comedy nights in Canterbury, Kent, said on its Twitter feed that the venue 'wants strictly gentlemen' comedians on nights when female strippers perform.
Writing on her blog and on Twitter, stand-up Katie Mulgrew protested against the 'abhorrent' and 'horrendous' policy of putting comedians and exotic dancers on the same bill, saying: 'My problem is that this gig with its all-male line up and all-male audience promotes the bullshit ideology that comedy is a man's job. That it's a boys' club. Here, this is what the men do. They share their thoughts and ideas. This is what the women do. They share their tits and asses.'
When Mulgrew challenged the company, whose slogan is 'standing up for comedy' for advertising stand-up and strippers, they replied on Twitter: 'Yeah we advertise it as what it is. The punters enjoy it and its something different. Don't understand your problem.'
Fellow comedian Sarah Bennetto told them: 'If you ban a massive chunk of the artists from an artform you claim to "stand up for" then you aren't part of a normal comedy circuit', while Felicity Ward added: 'Seriously,if female comics are booked, they'll spend their whole set hearing "take it off". Or "Aren't you the stripper" or "You're pretty ugly for a stripper" etc etc.'
Mixed bills of 'blue' stand-ups and strippers survive in what remains of the working men's club circuit. And the two activities were once strongly associated with each other. Famously, London's Comedy Store began life above a Soho strip bar and many legendary comics launched their careers alongside nude performances.
Lenny Bruce honed his nascent stand-up skills as an MC in the strip clubs of San Fernando Valley, Los Angeles, while The Windmill Theatre in Soho, London, gave early stagetime to the likes of Tony Hancock, The Goons, Tommy Cooper, Jimmy Edwards and Barry Cryer in the post-war years. They appeared as part of the theatre's Revudeville, an all-day, non-stop variety show that featured nude women standing still, lest their movement upset the theatre censor, The Lord Chamberlain. Morecambe and Wise also landed a spot there but flopped and left after a week.
And in recent years, burlesque has put nudity and comedy on the same bill. American comedian Stephen Lynch, for example, is opening his current UK tour with an old-fashioned burlesque dancer, complete with nipple tassels.
Speaking to Chortle, Mulgrew denied that she was calling for a boycott of the Black Cat. But she reiterated that she wanted 'comedians and promoters to think before they run gigs like this'.
She added: 'Ultimately, these gigs damage comedy as an artform and as an environment for men and women. I don't see how they challenge outdated perceptions or further attitudes towards women.'
She added that sexist catcalls were rare on the circuit. But in the last week she'd hosted a gig where ' a laddy group of lads kept shouting things like "get your arse out", "get your boobs out". I did a gig in the north-east where I was asked to "take my vagina out". Very forward.
'It's not a regular occurrence but I feel like if nights like this start popping up we'll regress to some 1970s mentality, it'll get worse. Of course, there are loads of gigs that should book more women. But nights like these really fuel that problem. That expectation … "well, she's on stage and a woman, she's a stripper isn't she?" That's my worry.'
The Black Cat's comedy nights are booked by comedian Matt Day, who told Chortle that the venue – lapdance club The Bing – hosted both male and female strippers.
But DSM couldn't name any female comedians that had played these nights, although a spokesperson said by email that: 'We don't tend to book females [comics] with females, or males [comics] with male strippers. However it is something we are fully open to, we know that there of plenty of good female acts that would do this gig and we are more happy to book them. 
'The comedy is prior to any strippers taking place, There is an extended break, some people will be there solely for the comedy, leave once the comedy is over and not attend the strippers and some will stay. This is their choice. At no point will any comics be performing with strippers.' 
Asked if putting comedians and strippers on the same bill denigrated stand-up, DSM responded:  'No not at all, if people could see how the event takes place and sees how professional the acts remain and how respectful the audience stay.
'We would just also like to say that our Twitter was managed by someone that has nothing to do with our venues or the acts, his views were of his own and he no longer assists us with our social media. We have many other nights where we book male and female acts and have no issue in doing so.
'Also we would like to stress that the MC on the night will be there to maintain control over any hecklers just like any other night. '
Stand-up Tony Cowards, who performs at The Black Cat next month, agreed that he would have 'a problem' if the policy of pairing strippers with comics effectively meant that female comics were discriminated against.
Like many comics he's performed in strip venues but never before with strippers on the same bill, and, while 'not entirely comfortable with strippers as a thing per se', his 'mind to a certain extent is open, in that I'm willing to do it, see what it's like and decide how I feel about it afterwards'.
He added that he has a 'lot of sympathy' for Mulgrew's opinion and 'doesn't disagree with a lot of what she said on her blog.
'But whenever these sort of issues come up, there's always a certain amount of punching down and trying to castigate smaller promoters. Whereas if you look at the very top end of club comedy, there are very, very few female comedians ever booked there, at the club that's the pinnacle of stand-up. But people never mention that one because they don't want to upset them'.
Mulgrew agrees, saying, 'I'm tired of people whinging about bad gigs or gigs that ultimately do damage to comedy but not actually standing up and doing anything about it because we're all afraid in the current climate that we'll lose work and money'.
– by Jay Richardson
Published: 14 Nov 2013
Recent News
What do you think?