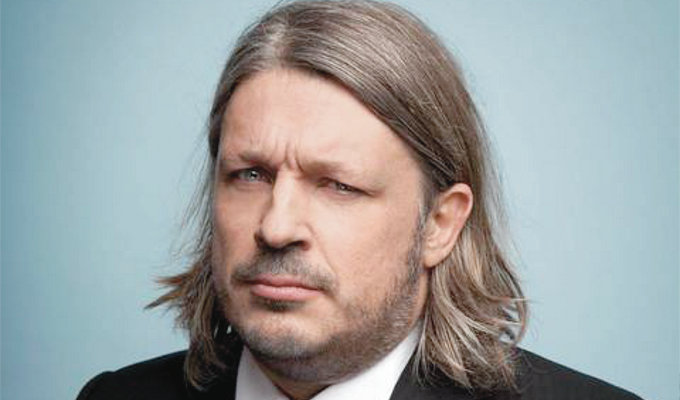 Richard Herring unveils next DIY project
Richard Herring has revealed the full details of his new project – releasing his own series of six filmed stand-up shows.
The comic plans to build on the success and his business model of his podcasts, including his chat show which he releases free on audio, but for a small price on video. The rest of the production cost is covered by selling tickets to the recordings at the Leicester Square Theatre.
Now his is taping a monthly series called Richard Herring's Meaning Of Life, in which he tackles 'the big questions of life'. He says the main appeal is the autonomy to produce whatever he wishes with no interference from commissioners, producers and censors.
As well as a stand-up routine, each show will include an interview with an expert – starting with physicist Marcus Chown on the subject of creation – and an animated sketch.
It has not yet been decided exactly how Meaning of Life will be released. The six episode series, filmed by indie DVD label Go Faster Stripe, will be made for an estimated budget of £20,000. Herring says he is most inclined to put out an audio and video version of the show for free, perhaps charging a small fee for an extended video download. He also plans to release the series on DVD when it is completed.
He said: 'It is hard to work out the best way to proceed. Is it preferable to make my money back by charging my fans to see the show, or is it better to put the series out for free in the hope that more people see it?
'In the past my free podcasts have brought a new audience to my live shows and increased sales of DVDs of previous shows. 'Obviously in this case it will take me some time to write and learn each show and there are a lot more expenses than in an audio podcast, which I can produce for practically no money.
'But it's an exciting opportunity to experiment with what is possible in this new medium. Having already successfully competed with BBC radio comedy shows and won a Sony award for my Leicester Square Theatre Podcast, I am keen to see if I can produce something which will stand up against TV comedy shows, at a fraction of the budget.
'A part of me wonders if I should try to attract a sponsor to fund the series, but another part of me thinks that it would be great if it could remain independent and survive on the goodwill of the people who enjoy it, paying for a download or buying a ticket to my tour show or another DVD. In this way the public can become commissioners, voting with their wallets. And all without the rigmarole, focus groups and jumping through hoops that comes with trying to get a project on to TV.
'A full theatre would give the project an enormous boost, so it would be terrific if people came along to the Leicester Square Theatre on November 17 to see the first one recorded.'
Others will be recorded from January to May next year.
Published: 6 Nov 2013
What do you think?